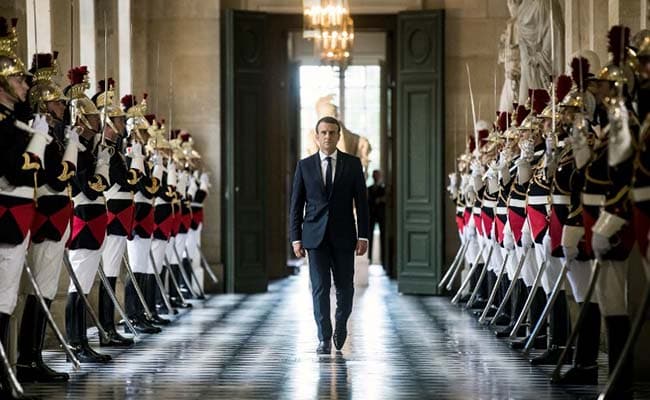 Paris, France:
A year ago, on May 7, Emmanuel Macron won the French presidential election, defeating far-right leader Marine Le Pen by 66.1 percent versus 33.9 percent in the second and final round of voting.
AFP looks back on some of the striking images and characteristics of the first year in power of France's youngest ever president who, at age 40, has vowed to shake up France and Europe.
The Republican monarch
Before his election, Macron had theorised that French people wanted their leader to show more authority after five years of his predecessor, Francois Hollande, who had promised to be a "normal president".
He has cloaked himself in the symbols of power, using the pharaonic Pyramid of the Louvre Museum as the backdrop for his victory speech and repeatedly using the sumptuous Versailles palace, former seat of French kings.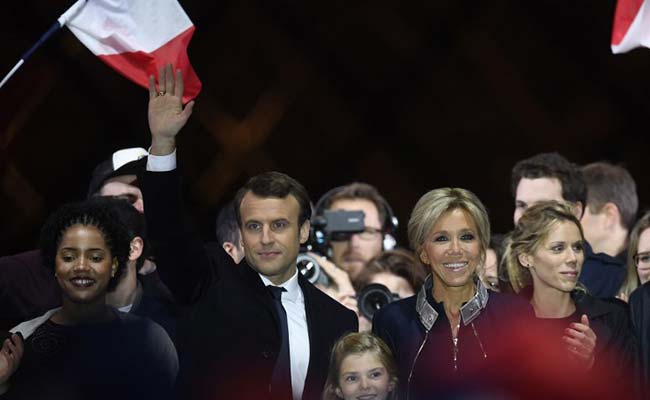 His role as "father of the nation" was tested in December when he spoke at funerals for two national heroes, the wildly popular rocker Johnny Hallyday and writer Jean d'Ormesson.
But opponents deride him for having illusions of grandeur or authoritarian tendencies, with opponents at a demonstration on Saturday carrying effigies depicting him as Napoleon, the Roman god Jupiter, or a crown-wearing monarch.
Globe-trotter
Armed with his catchphrase "France is back", Macron has travelled to all corners of the world proudly telling audiences about his economic reforms and positioning himself as Europe's most visible leader.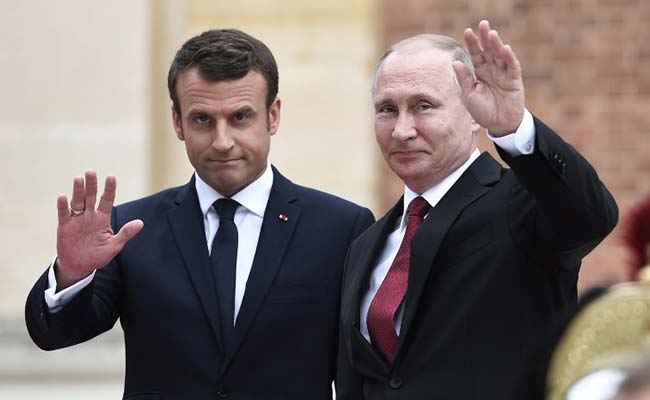 He has visited Beijing, Washington,
New Delhi
and Sydney, and has welcomed Russian President Vladimir Putin, Egypt's leader Abdel Fattah al-Sisi and Saudi
Arabia's Crown Prince Mohammed bin Salman to Paris
within the last year.
Closer to home, he has championed reform of the European Union, pleading for the bloc to go further in linking its economies, governments and armies.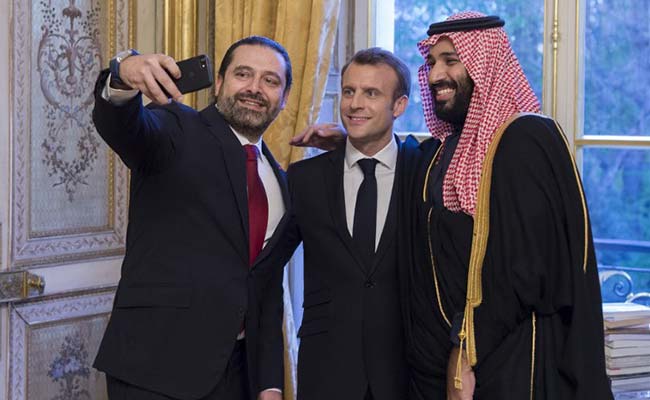 But many analysts see him as isolated, lacking allies in Europe and
unable to exert much influence on global issues such as the Syria conflict
, climate change or the Iran nuclear deal.
Debater-in-chief
A combative debater, Macron likes to wade into a crowd of protesters -- with a camera rolling -- to try to win them over.
It was a tactic he deployed successfully during campaigning when he confronted striking workers at a Whirlpool dryer factory in his hometown of Amiens in northeast France.
He has repeated the exercise several times since -- with a hurricane survivor on the French Caribbean island of Saint-Martin, with angry farmers and latterly with striking rail workers in eastern France.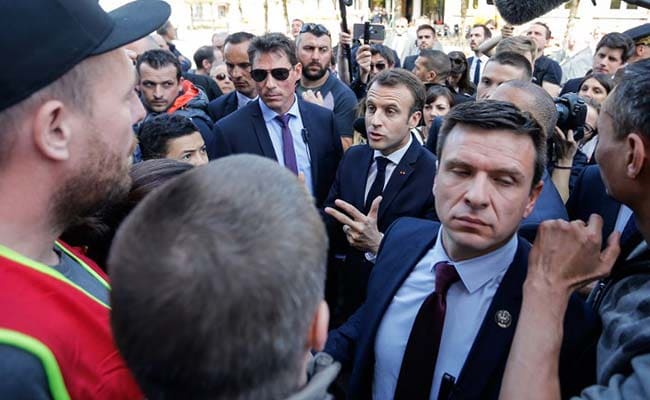 "He likes to engage with people because he thinks that it gives him an opportunity to explain himself," Interior Minister Gerard Collomb has said.
He still needs to win over the country as a whole, however: a poll on Sunday showed 55 percent of respondents were disappointed with his first year.
Military man
The first French president not to have done compulsory military service, Macron was keen to establish his commander-in-chief credentials.

On the day of his inauguration he rode up Champs-Elysees avenue in Paris in a military command car. Five days later he paid a visit to French forces deployed to fight jihadists in west Africa.
He has also announced plans for a 37-billion-euro revamp of France's nuclear arsenal over the next seven years -- part of a sharp increase in defence spending to boost France's clout on the global stage.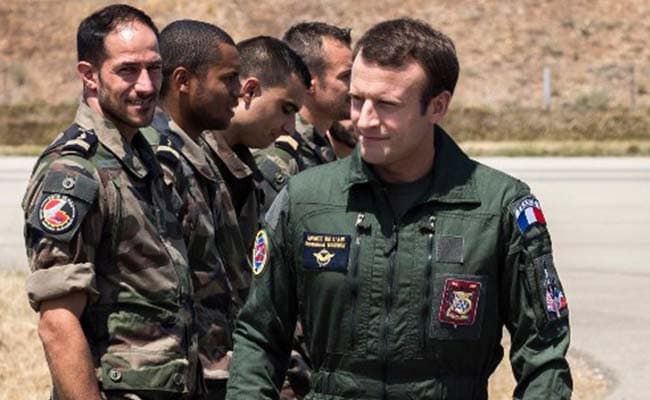 Last month, Macron launched missile strikes at Syria's chemical weapons facilities along with the United States and Britain, marking his first foreign military foray.
Image control
If taking time for verbal jousting is a feature of Macron's public appearances, so too are selfies with well-wishers and other leaders.
After hosting a climate summit in Paris in December he turned the lens on himself and former California governor Arnold Schwarzenegger surrounded by cheering youngsters at the foot of the Eiffel Tower.
On a visit to London in January, he was all smiles again for a selfie with Prime Minister Theresa May and other guests at an official dinner at the V&A museum.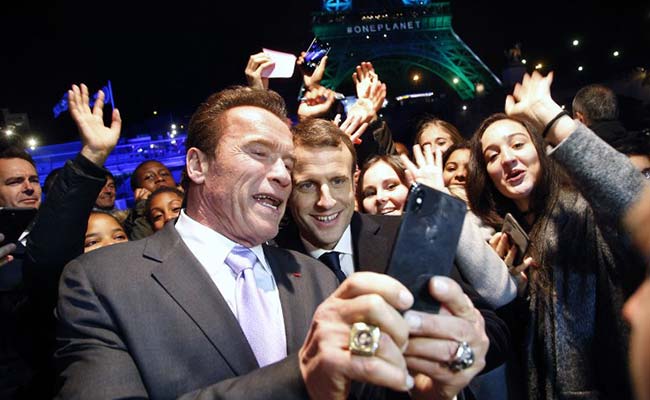 But while the snapshots help project an image of approachability and transparency, his relations with the French media have been poor, with Macron frequently accused of trying to shut out journalists.
He distributes images and videos copiously via his own social media accounts, but has given few interviews at home and is moving the French presidential press pack out of the Elysee palace.
First lady
Macron and his wife Brigitte continue to fascinate at home and abroad.
Brigitte, a former school teacher 25 years senior to her husband, is a mainstay of the celebrity press, often appearing in her trademark Louis Vuitton outfits.
Insiders at the presidential palace describe the 65-year-old as a discreet but powerful influence behind the scenes, while in public she has championed education reform and help for the handicapped.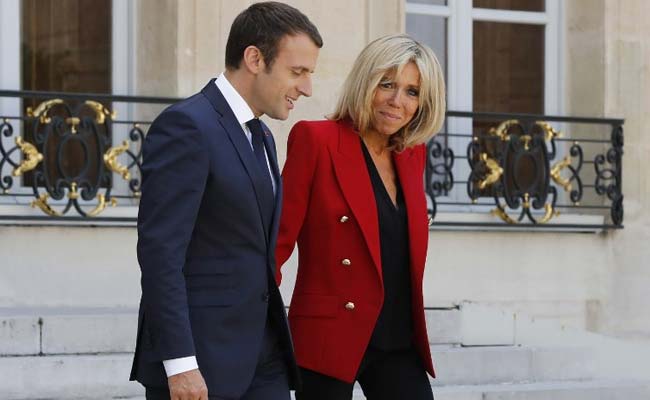 "In my head, I'm Emmanuel Macron's wife, not the president's wife. I don't feel like a first lady even though I'm aware of my responsibilities," she told French journalists recently.
The couple's highly choreographed image management -- that sees photos of Brigitte distributed via a celebrity photo agency -- has also led to criticism, however.
(Except for the headline, this story has not been edited by NDTV staff and is published from a syndicated feed.)