Days after the first phase of elections in Chhattisgarh that covered 18 assembly constituencies and saw a voter turnout of 76.28 per cent, Prannoy Roy along with his team of experts bring you an analysis of the election. On the show, Dr Roy speaks to Chhattisgarh Chief Minister Raman Singh and former Chief Minister Ajit Jogi who has emerged as a key figure in the state polls.
Three-time chief minister Raman Singh is seeking a fourth term in what is a close contest for the BJP. Mr Singh is BJP's longest serving chief minister, three years more than Prime Minister Narendra Modi's tenure as Gujarat chief minister.
For Ajit Jogi, who was the first Chief Minister of Chhattisgarh after the state was carved out of Madhya Pradesh, it is a chance to prove his stock without the Congress. He left the Congress party in 2016 after being side-lined by the party and weeks later formed his own Janata Congress Chhattisgarh (Jogi) which is fighting the polls together with Mayawati's Bahujan Samaj Party.
The Chhattisgarh assembly election, seen as a three-way fight between the ruling BJP, the Janata Congress Chhattisgarh (Jogi)-BSP alliance, and the Congress party, is taking place amid threat of attacks in Chhattisgarh's Maoist-hit districts.
The second phase of polling in 72 seats, out of the 90-member Assembly, would be held on November 20 and counting of votes would take place on December 11.
Here are the highlights of Prannoy Roy's analysis of Chhattisgarh election:
BJP and Congress were neck-and-neck in 2013 Chhattisgarh Vidhan Sabha Elections while in the next year's general election, BJP swept the state.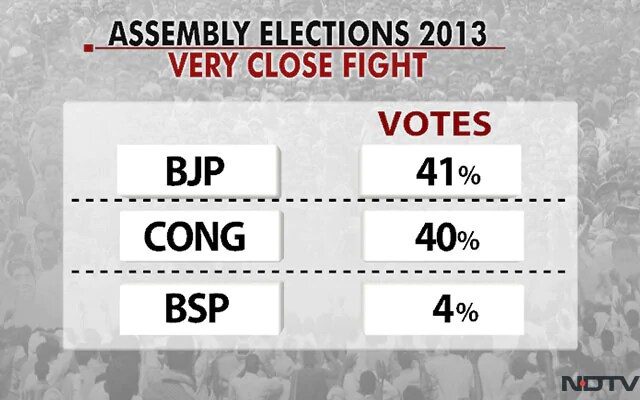 The alliance factor - how the results tally would have changed in favor of Congress had it allied with BSP for 2013 Vidhan Sabha elections in Chhattisgarh.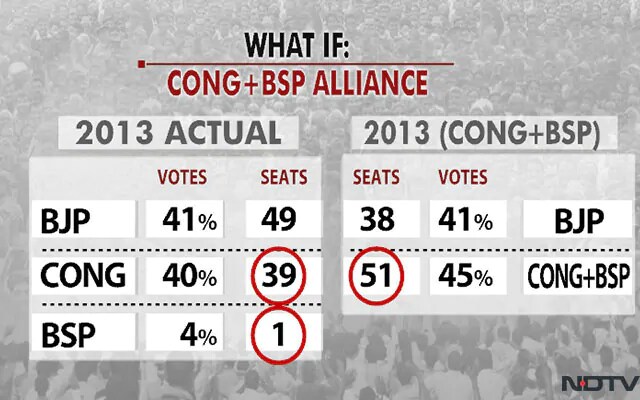 In 2013 Vidhan Sabha elections, a small swing in votes would have caused a huge change in seats.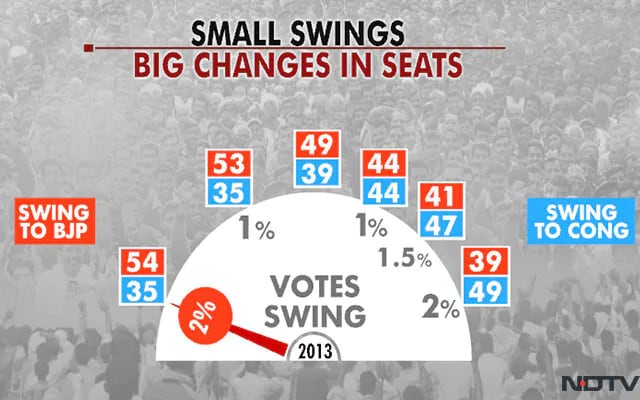 Here's the vote bank breakup by religion and caste in the state. Polling for the 90-member Assembly is being held in two phases and votes will be counted on December 11.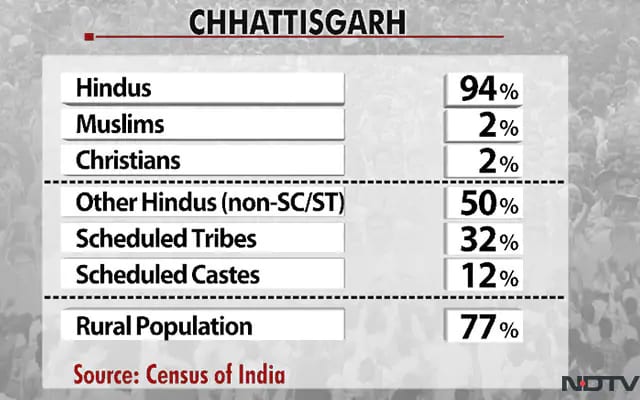 A look at the scheduled caste and scheduled tribe factor in Chhattisgarh Assembly elections.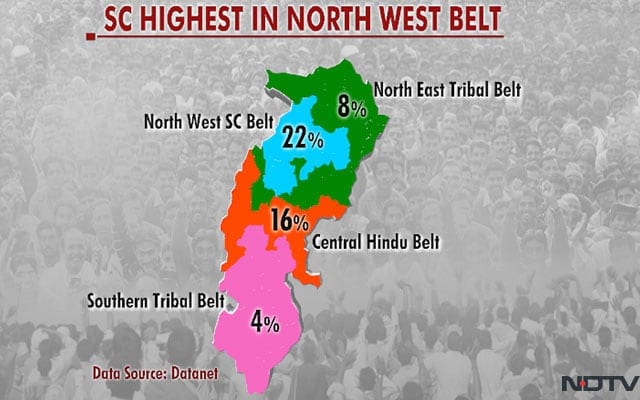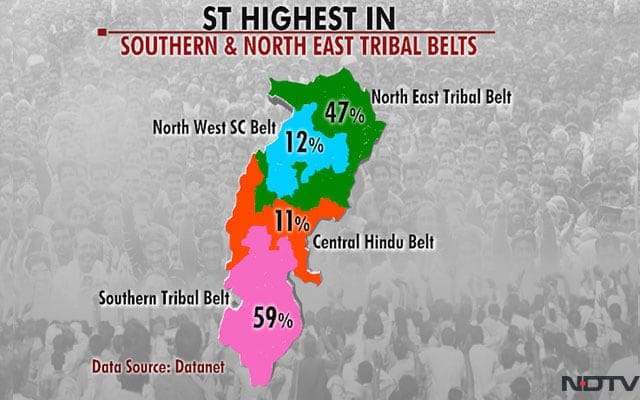 Based on 2014 opinion polls, first time voters and non-SC/ST voters are likely to back BJP while SC/ST voters are pro-Congress.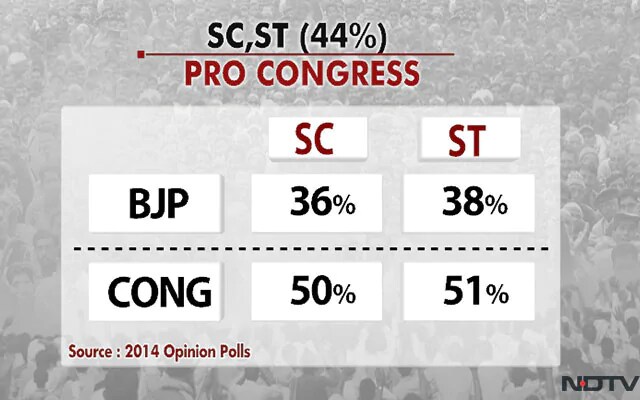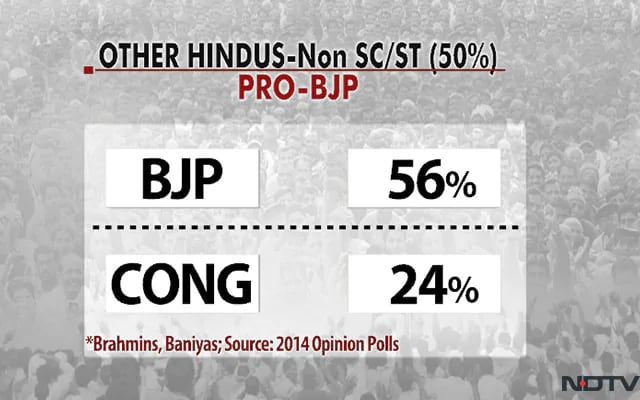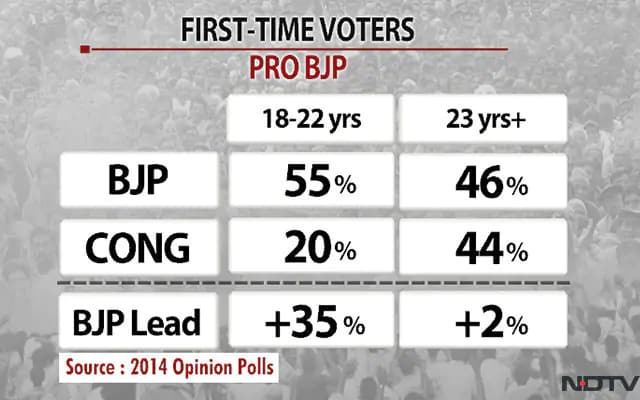 Traditionally, BJP has shown strong numbers in central and northeast belt in Chhattisgarh, while Congress has polled well in northwest and southern areas.
"No matter how much violence there is, people cannot be kept away from democratic processes. And after the naxal violence, it is a victory for us that so many people came out to vote," Chhattisgarh Chief Minister Raman Singh says.
"I am not worried about whether or not we will form the government again. We have the full support of the people. The one thing we have not been able to accomplish in entirety is peace in Bastar. We will tackle that with full force," Raman Singh to NDTV.
Poll promises: Free rice, slippers, phones, sops for farmers and a lot more - but will these freebies impact voting?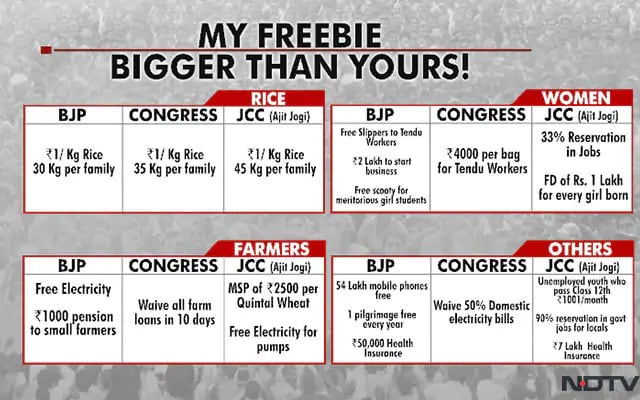 Vidhan Sabha vs Lok Sabha election - Data suggests turnout is key and assembly polls are a good benchmark for voting pattern in national elections.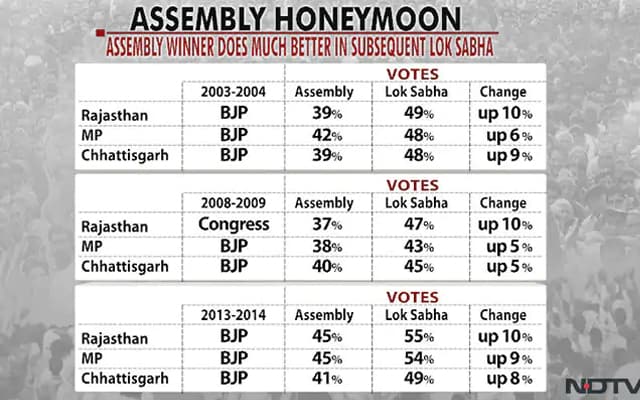 Over 76% turnout in phase-1 polling in Chhattisgarh.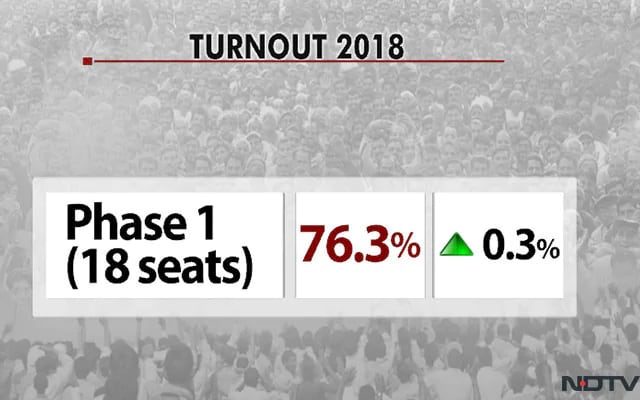 Panchayat and municipal election results in the state have been a positive indicator for Congress party.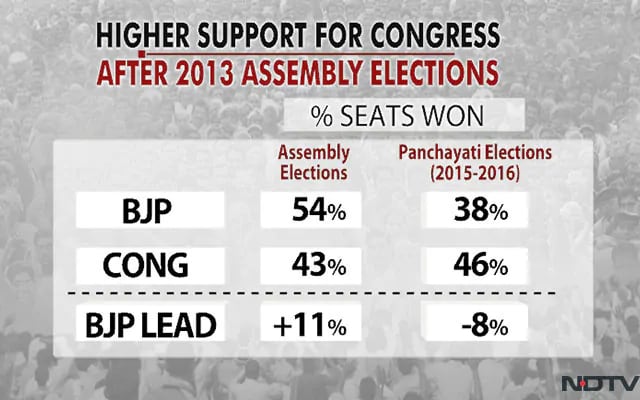 "I think there was an anti-BJP wave in Bastar, and the fight there is between us and Congress. Raman Singh may win, and besides that perhaps one or two more seats for BJP," Ajit Jogi says.
"Only a regional party can do justice to the people of Chhattisgarh, because we are resource rich - we have diamond, we have gold, we have iron, we have aluminium, we have cement, we have electricity, we have no dearth of water, we have very good forests and we have fertile land," Ajit Jogi to NDTV.
Will BJP cross the half-way mark to retain power in Chhattisgarh? Here's what opinion polls suggest.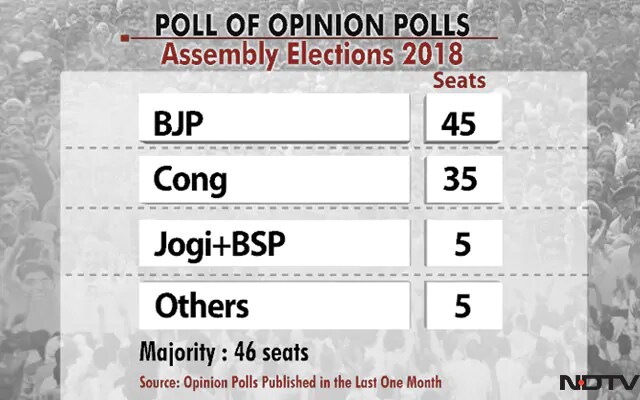 The 11 bellwether seats to watch out for as Chhattisgarh votes are counted next month. Jagdalpur constituency has always voted for the party that has won the state in the last 9 elections, Dongargarh has picked the winner in the last 5 elections.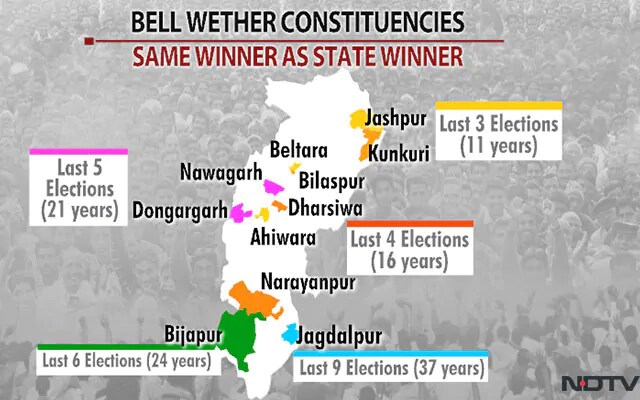 A look at the key factors, from anti-incumbency, turnout and divided opposition to freebies, that could have a bearing on parties' chances on December 11.