Chennai:
Telangana Chief Minister K Chandrasekhar Rao, on a mission to form a non-BJP non-Congress alternative, today met DMK patriarch M Karunanidhi and its working president
M K Stalin
in Chennai.
Mr Rao, who held discussions with Mr Stalin on a wide range of issues, including more autonomy to states, described the meeting as "very delightful".
He said his ongoing effort was not aimed
at some kind of a "third front".
It was not a mere alignment of political parties but "that of the people" of the country", the Telangana Rashtra Samithi supremo told reporters in a joint press meet with Mr Stalin.
Mr Rao parried a question on whether he was projecting West Bengal Chief Minister Mamata Banerjee, whom he had recently met, as the Prime Ministerial candidate in the 2019 elections.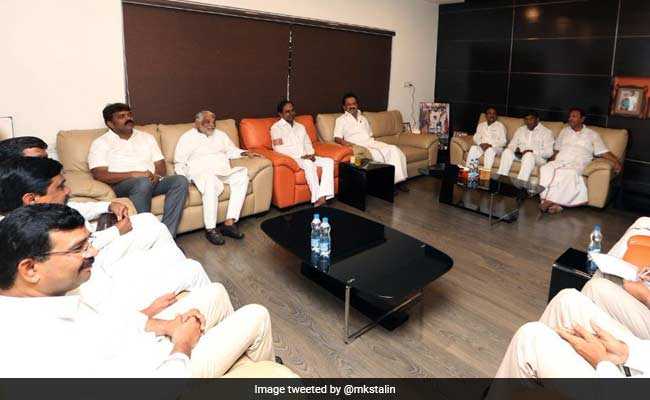 The efforts were aimed at the country's betterment, better economy and better opportunities for the youth, he said.
Earlier, Mr Rao met Mr Karunanidhi at the latter's Gopalapuram residence where he was received by Mr Stalin.
Praising 93-year old Mr Karunanidhi as "one of the tallest leaders" of the country, he recalled their association in UPA I.
He expressed joy that Mr Karunanidhi, confined indoors due to health problems, responded to his 'Vanakkam,' the traditional Tamil salutation.
The Telangana Chief Minister has recently met Ms Banerjee and former prime minister H D Deve Gowda as part of his move to form an alternative.
A resolution at the TRS Plenary on April 27 had authorised Mr Rao to take appropriate decisions on forming the alternative to BJP and Congress.
Mr Stalin, son of Mr Karunanidhi and Leader of the Opposition in Tamil Nadu Assembly, hosted a lunch for Mr Rao at his residence where the two had a lengthy discussion on federalism and devolution of funds to states.
Both Mr Rao and Mr Stalin said they discussed issues such as the centre-state relations, powers to be given to the states, more devolution of funds and more autonomy to states.
They also said more rounds of discussions would be held.
Mr Rao said this was neither the beginning nor the end and no decision had been taken. "Across the nation there is a debate that there is a need for a qualitative change in governance of India, politics of India," he added.
"So we have been holding discussions with leaders across the nation. Both of us (himself and Mr Stalin) had a word on phone with Mamata Banerjee also and we will be talking to many leaders across the country," he said.
This effort will take about two to three months for a consensus to be achieved, Mr Rao said adding he and Mr Stalin shared the view that India should be a secular country.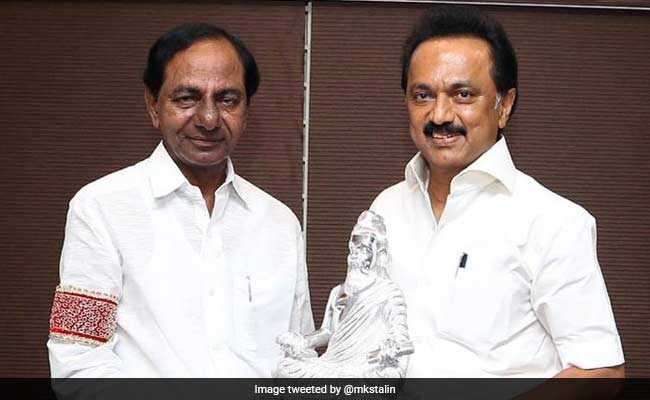 "The centralisation...dictatorial trends of successive governments seen in the last seven decades should go," he said.
When asked if the Centre 'ignored' southern states, Mr Rao shot back saying, "Where is the doubt about it" and vowed to
ensure justice for people
.
The TRS chief said he invited Mr Stalin to be the chief guest for the launch of a Telangana government scheme next month.
Mr Stalin said the discussions centred on the prevailing political situation, but added any announcement on a possible alliance would come only during elections.
Mr Rao was accompanied by his senior party colleagues including K Keshava Rao, MP, while former DMK ministers T R Baalu and A Raja were present during the meeting.