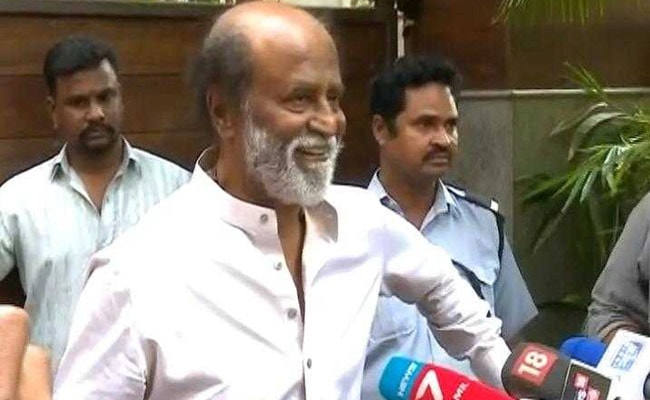 Chennai:
Superstar Rajinikanth today asserted he will launch his political party as announced already and said criticism against him cannot be avoided since he aspired to join politics.
"I am going to launch the party. It is for sure. The date is, however, not known and I will let you know at the right time," he told said.
67-year old Rajinikanth, who has a large fan following, had in December last announced his plans to float a political party and recently said there was a "vacuum for a good leader" in the state politics currently and he would provide a good administration.
Ruling AIADMK and DMK have dismissed his view of political vacuum.
On criticism against him from some, including some of his "friends," he said, "in politics, there will be criticism. In public life criticism cannot be avoided completely. Criticism will be there."
Rajinikanth said he was going on a personal trip to the US for about 10 days.
To a question on veteran film director Bharathirajaa slamming him for his comment over attack on police personnel during anti-IPL protest, the actor reiterated that an "attack against police personnel is unpardonable, and at the same time they (police) should not go beyond their brief."
After the April 10 anti-IPL stir witnessed three police personnel being attacked by protesters, Rajinikanth had denounced it, saying, "the worst form of violence is the assault on uniformed personnel."
Bharathiraja had objected to this and said the actor should not drive a wedge between the Tamil people.
On a woman college assistant professor allegedly persuading girl students to extend sexual favours to Madurai Kamaraj varsity officials, he said it was "shameful".
"A probe is on. If the allegations are proved, she should be given stringent punishment and there is no second opinion about it."
Replying to a question on actor turned BJP functionary S Ve Shekher's recent objectionable comment against the media fraternity, he said "it is an unpardonable act whether he did it knowingly or inadvertently."
Mr Shekher had apologised for his recent social media post saying he forwarded it without going through the objectionable content.