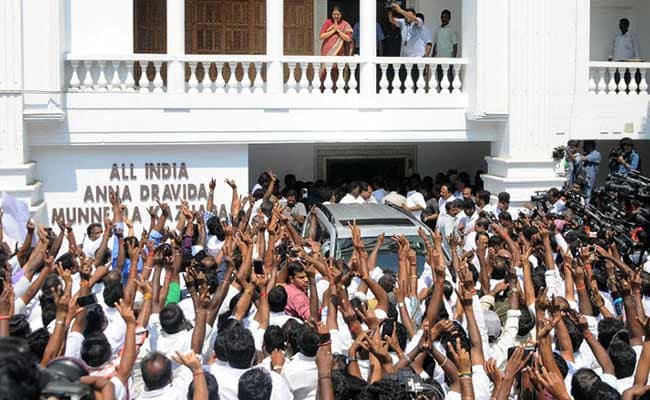 Highlights
Nearly 130 legislators not seen or heard from since Tuesday
They have pledged support to Sasikala as Chief Minister
Her rivals and other petitions allege 'a hostage situation'
Chennai:
At the home of O Panneerselvam, who says that he must remain Tamil Nadu Chief Minister, a large LCD screen was installed this morning along with a public address system to enthuse the crowd that is encouraging him to stay the course.
Mr Panneerselvam, 66, met
Governor K Vidyasagar Rao
last evening to ask that he be given a few days to assimilate support and prove his strength in a trust vote. The Governor this morning met with the state's police chief and the chief Secretary, the most-senior bureaucrat, amid Mr Panneerselvam's complaint that most of his party's law-makers are being held against their wishes by his rival of recent vintage, VK Sasikala, who says it's her turn to be Chief Minister.
On Tuesday, Ms Sasikala, chosen by her party days earlier to become head of the government, met with legislators from the ruling AIADMK to prove she is their preferred choice. All but three law-makers showed up, buttressing her claim. They were bused that evening to an array of hotels - and have not left since, emerging today at their camps for interviews with local channels. Mr Panneerselvam and the group of about ten people backing him (they include parliamentarian V Maitreyan) say the legislators aren't being freed because given a choice, they would cross to his side. Their signatures pledging Ms Sasikala as their leader, submitted by her last evening to the Governor, who met with her after Mr Panneerselvam, will be verified, it was reportedly decided.
"Their phones are switched off because they were getting threatening calls," said AIADMK leader B Valarmathi, about the
unreachable legislators
, without elaborating.
The feud for top job in Tamil Nadu has been instigated by the death of J Jayalalithaa, who was Chief Minister and unparalleled leader of the AIADMK. Ms Sasikala, who lived with her, took control of the party after the politician's death with no pushback on account of her next-of-kin status. On Sunday, Mr Paneerselvam sent his resignation letter to the Governor. The AIADMK said at the time that the decision to make Ms Sasikala was unanimous.
But 48 hours later, on Tuesday night, Mr Panneerselvam unzipped a totally different version of events, telling reporters that he fought for two hours against the proposition of Ms Sasikaka's elevation and was eventually bullied into writing his resignation letter. His tell-all was made at Ms Jayalalithaa's grave amid a scrum of cameras. Ms Sasikala has been told by the Governor that she will likely get first dibs to prove her majority, but he needs a few days to check on the allegations made by Mr Panneerselvam.
Till this week, Mr Panneerselvam was seen as a man not prone to make a big public impression. But social media has upturned that, deriding the AIADMK for picking Ms Sasikala over him and urging people to phone their legislators, whose numbers are being posted online. Just one problem: the phones are all switched off.