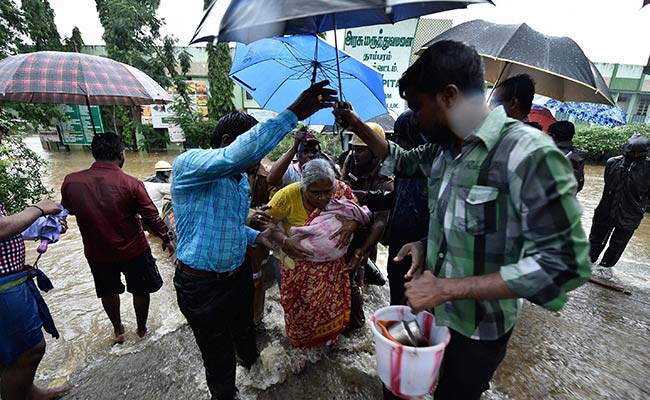 Chennai:
Prime Minister Narendra Modi spoke to Tamil Nadu Chief Minister J Jayalalithaa assuring all possible help as heavy rains pounded several parts of Tamil Nadu on Tuesday, with most areas of the capital witnessing waterlogging, severely disrupting airport, train and bus services.(
See pictures
).
The number of people killed in rain-related incidents touched 188, according to the state government. The Army was called in on Tuesday evening in at least two suburban areas to carry out rescue operations as torrential rain since Monday night crippled several parts of Chennai, its suburbs and Puducherry.
Two Army columns have been pressed into service in Tambaram and Oorapakkam after the state government sought military assistance. The Navy is also on stand-by.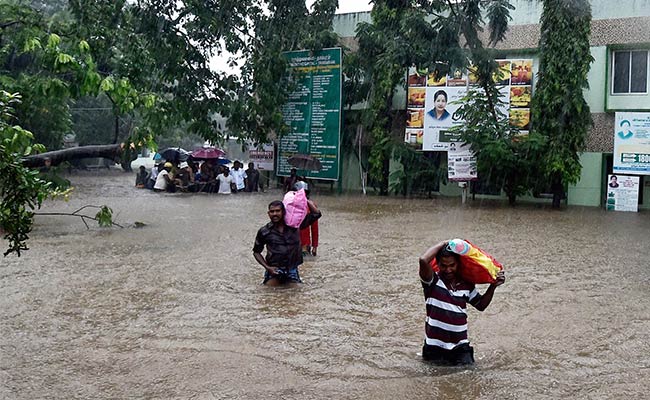 All flight operations at Chennai airport have been suspended until further review. Many flights were disrupted on Tuesday as waters inundated the runway and the tarmac.
The rains that have virtually broken a 100-year-old record with a day's rainfall covering a month's average also flooded areas in Vadapalani, Valasaravakkam and Nandamvakkam as nearby lakes overflowed into the city.
The Met department has predicted heavy to very heavy rains over the next four days.
Nearly 4,000 people living on the banks of Adyar river in Chennai were evacuated to safer zones, officials said. The river was in spate following discharge of excess water from Chembarambakkam reservoir.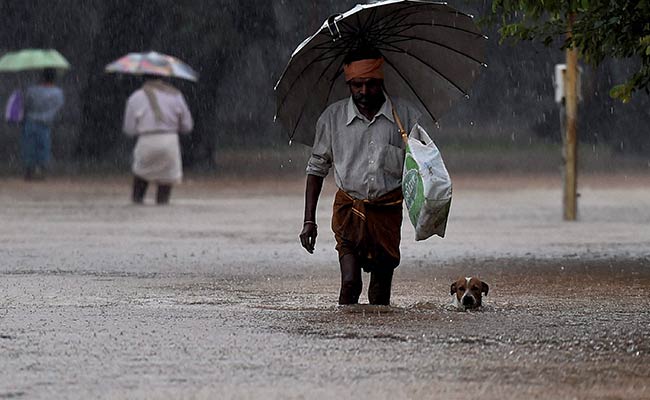 As a precautionary measure, Tamil Nadu Electricity Board switched off power in the suburban areas where it is supplied through overhead cables after reports of deaths due to electrocution.
Most areas of Chennai, which have already been lashed by rains for over a fortnight, went under water on Tuesday, severely disrupting train and bus services and forcing postponment of half-yearly school exams and closure of schools in Chennai, Kancheepuram and Tiruvallur districts.
A large part of the road near Madhya Kailash temple in the heart of Chennai, in an area that connects the IT corridor, caved in resulting in a huge crater and disrupting traffic.
Several people including actor Siddharth and music composer AR Rahman took to Twitter to express their anguish over the situation in Chennai.
This is common in #CHENNAI now. What are our people supposed to do? Where is the #hope#ChennaiRainspic.twitter.com/vv3hNuZFaj

- Siddharth (@Actor_Siddharth) December 1, 2015
Oh god, please keep my Chennai and its people safe from the floods

- A.R.Rahman (@arrahman) December 1, 2015
Heavy rain n floods in chennai.. Praying to not get stuck @ Chennai International Airport https://t.co/mBaWLsnPEh

- manisha koirala (@mkoirala) December 1, 2015
Stranded in Chennai airport with nowhere to go. Anybody can offer any help? Only option seems to be taking a flight and going to Bangalore.

- Vignesh Venkat (@vigneshv_psg) December 1, 2015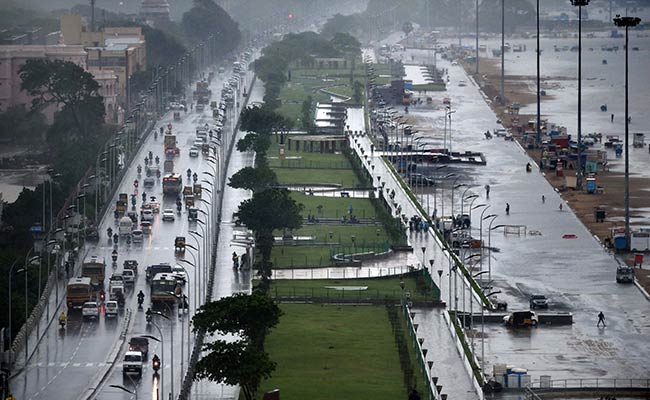 The situation has worsened in suburban areas of Tambaram and Mudichur after the Chembarakam lake overflowed and an unprecedented 26,000 cusecs of water was being released flooding the downstream areas. These areas had already suffered heavily during the earlier spells of rains.
Even in hitherto unaffected areas, people complained that water entered their homes and roads flooded with surging waters. Several areas in the city went without power as supply was cut as a safety precaution.
The National Disaster Response Force has already despatched ten teams of which four are already in Chennai and the rest will be flying in on Wednesday. "At the same time, we are also requisitioning teams from Bengaluru and Andhra Pradesh," NDRF chief OP Singh said.
Rescue work will begin and NDRF would deploy more teams if required. Teams carrying boats will also be sent to Kancheepuram and Tiruvallur districts.
Chennai Corporation has announced Emergency Contact Numbers for all the regional zones in the city. people can contact the following numbers in case of any emergency due to the floods.
Tree fall, Waterlogging - 1913
Sewage overflow - 45674567, 22200335
State Emergency - 1070
District Emergency - 1077
Electricity - 1912
Fire & Rescue -101
1st Regional Office (Tiruvottiyur) - 9445190001
2nd Regional Office(Manali) - 9445190002
3rd Regional Office (Madhavaram) - 9445190003
4th Regional Office(Tondiarpet) - 9445190004
5th Regional Office(Royapuram)- 9445190005
6th Regional Office(Thiru. Vi. Ka. Nagar) - 9445190006
7th Regional Office(Ambattur) - 9445190007
8th Regional Office(Annanagar) - 9445190008
9th Regional Office(Teynampet) - 9445190009
10th Regional Office(Kodambakkam) - 9445190010
11th Regional Office (Valasaravakkam)- 9445190011
12th Regional Office(Alandur) - 9445190012
13th Regional Office (Adyar)- 9445190013
14th Regional Office(Perungudi) - 9445190014
15th Regional Office(Sholinganallur) - 9445190015