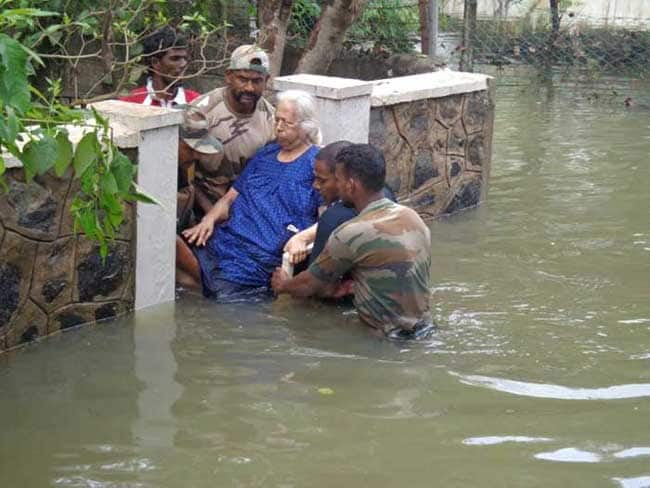 New Delhi:
Deployed in rescue and relief operations in flood-hit Chennai, NDRF personnel are using social media and the internet to reach out to those in distress with a desk working 24/7 to ensure that the affected people receive help.
A small office desk at the National Disaster Response Force (NDRF) headquarters has picked up over 1,000 strands of vital information on social media and the internet and is posting responses to those requesting help.
The Information Technology wing of the force, which is being manned round-the-clock by a posse of over a dozen NDRF personnel, is posting assurances to every SoS call made online in the wake of the flood crisis in the southern metropolis.
Thus, the force is responding with messages like 'noted', 'we will do the needful', 'will do our best possible', 'noted and passed to field teams' and 'pls provide full address' to calls for help by Chennai dwellers.
NDRF Chief OP Singh is getting hourly updates on his personal mobile phone about the social media response of the force and has also instructed the team to ensure that "each and every" tweet, email, Whatsapp message, SMS or phone call is acknowledged.
"We have been getting these messages for the last three - our days... initially, we used to pick the information and send it across to our field units in Chennai and Arakkonam for immediate action, but I thought we need to personally assure the people who either seek help themselves or on behalf
of their family or friends."
"Half the battle is won when our official Twitter handle or email says 'noted', which is an assurance to say that we are working on the distress call. The person on the other side feels he or she is being heard and cared for," Mr Singh told PTI before taking a special flight to the southern state for a review of the situation there.
The 12,000-strong force, at the latest count, had received and responded to 339 tweets on its official handle '@NDRFHQ' or through '#NDRF' along with 501 emails, 613 phone calls and 13 messages on Whatsapp. A further 200 such messages are being replied to, it was learnt.
"We pick up information from all social media avenues and immediately send it to our field teams, manned by two DIG rank officers in Tamil Nadu, in an Excel sheet format via the V-SAT system activated exclusively for these tasks," a senior NDRF official said.
The Excel-sheet helps the officers on the ground to send the SoS requests to the working teams which are tasked with the area and zone-wise rescue operations, the official added.
The calls received on the two helpline numbers -- 011-24363260, 09711077372 -- are routed to the NDRF On-Site Emergency Operation Coordination Centre (OSOCC) at Kilpauk in Chennai via satellite phone updates, said its Information Technology wing head and Assistant Commandant, Krishan Kumar.
Meanwhile, through its Twitter handle, the force is also uploading pictures of the operation that is currently underway in the Tamil Nadu state capital.
NDRF has also created a smart, SMS-based system to regularly update all field commanders, senior officials and authorities in the Union Home Ministry and send regular notifications regarding requirements during such long-haul counter-disaster operations.