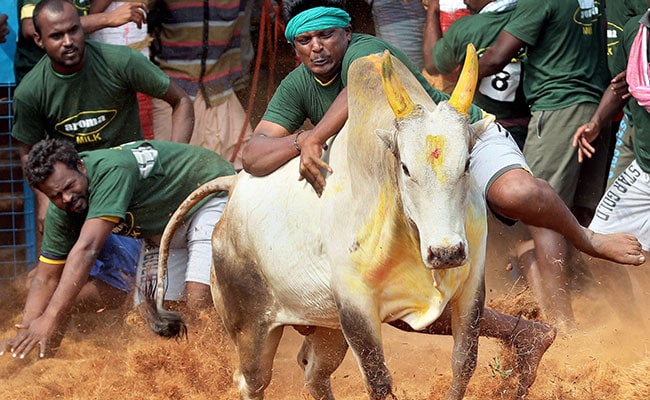 Chennai:
A bull tamer was killed at a Jallikattu event at Manaparai in Tamil Nadu's Tiruchirappalli district, around 400 km from Chennai on Sunday, becoming the sixth victim of the dangerous sport that is making a comeback after a ban. The victim was identified as 25-year-old P Manikandan, a local mason.
Jallikattu was banned by the Supreme Court in 2015 on grounds of animal cruelty. But the government lifted the ban last year.
A police officer said, "The bull charged and kicked him when he tried to tame it. He was taken to the hospital immediately but he died on the way."
Earlier in January, a spectator was gored to death in Madurai's Palamedu, two in neighbouring Sivaganga district and one in Tiruchirappalli and Pudukkottai districts.
In 2015, the Supreme Court banned Jallikattu, disposing a petition filed by the father of a young man who was gored to death several years ago. The court had also raised the issue of cruelty to bulls and safety of spectators.
However, the Tamil Nadu government amended the central law that forbid Jallikattu and paved way for conducting the event as a cultural sport. The constitution bench of the Supreme Court would now take up the appeal that questions the legality of a state government nullifying a central law.
The state government says it has ensured tough screening of bulls and bull tamers to ensure the animals are not subjected to cruelty, intoxication and violence. Bull tamers too, officials say, are let into the arena in groups so that bulls are not traumatised by large number of men.
However, animal rights activists allege that animal cruelty still continues. They say multiple bull tamers simultaneously cling on to the bulls. Many pull the animal by their tails and the bulls, they say, are even blindfolded to turn ferocious so they can't be tamed. Organisers make bulls go without enough food and water for 15-to-24 hours ahead of their turn to be let into the arena, they say.
The re-constituted Animal Welfare Board of India has given a clean chit to Jallikattu. Many campaigners allege the body that vehemently stood for animal rights and zero cruelty to animals in the past has now been replaced by pro-Jallikattu members who, they say, turn a blind eye to animal cruelty. During the recent Jallikattu events in Madurai, many animal rights activists appointed as observers were asked to return and they allege they are not being sent to other events too. However, the Animal Welfare Board officials refused to comment on this.