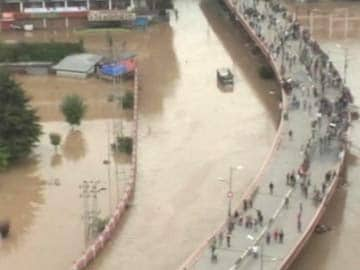 Srinagar:
In some parts of Srinagar, for the fourth day in row, families continue to be stranded on the roofs of their houses, the water surrounding them nearly 10 feet high. Anger is seething, and four Air Force helicopters, carrying supplies, could not land this morning at the helipad at the Governor's residence, after threats of stoning.
"Aggressive crowds mean we are facing difficulties in rescue work," said OP Singh, chief of the National Disaster Relief Force or NDRF, which, with the armed forces, has rescued nearly 80,000 people so far. The army chief, General Dalbir Singh Suhag, reiterated, "We understand people can be upset. The army will remain on the job till the last man is rescued."
There has been no rain since yesterday, allowing new momentum to a massive rescue operation that has seen nearly 80,000 people brought to safety by tireless members of the armed forces and the National Disaster Response Force (NRDF). But the worst floods in over a century in the state mean that six lakh residents are still waiting for help in Srinagar and southern Kashmir; the river Jhelum, which flows through Srinagar, washed over the city on the weekend.
"Finally the flood water levels are receding. Now our teams will be able to enter some of the villages that are totally submerged. Our boats are ready," said RK Khan, a police official in Srinagar, who manages the state's emergency control room. "People are extremely angry, frustrated and exhausted," he said.
On the weekend, the swollen Jhelum river flooded large parts of the city of nearly one million people, snapping communication lines as desperate families were forced to huddle on rooftops of houses and mosques for survival.
In other parts of the state, five days of pounding rain ended on Monday evening. By then, hundreds of villages were submerged with landslides rendering them inaccessible by road.
In the Rambagh area of Srinagar on Monday evening, two rescue workers from the NRDF on a boat were reportedly attacked with sticks; their boat was punctured. One of the workers was injured.
Chief Minister Omar Abdullah last evening said, "I understand the anger but it is not true that nothing is happening... this situation is unprecedented."
He also said that before Srinagar was flooded, warnings were announced at mosques and from police vehicles, urging residents to move to higher ground. "I am sorry to say that they willingly ignored these warnings... choosing to stay where they are," the chief minister said.