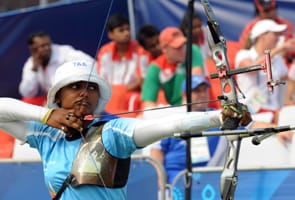 India's Deepika Kumari missed out on a medal as she lost to Kwon Un Sil of North Korea in the bronze-medal play-off of the women's individual archery event in the Asian Games here on Tuesday.
Deepika began the day by thrashing Rand Almashhandani of Iraq 5-1 in her opening match and then beat Indonesia's Erwina Safitri 7-3 to reach the quarterfinals.
The Indian continued her winning run and defeated Chinese Taipei's Tan Ya Ting 6-4 before losing to Yun Okhee of South Korea in the shoot-off.
In the bronze-medal play-off, Deepika lost to Kwon Un Sil 2-6.
Another Indian in the fray, Rimil Buriuly bowed out of the competition in the second round.
Rimil started on a winning note as she blanked Zahra Dehghanabnavi 4-0 in her opening round but was outplayed by her Taipei rival 2-6 in the next.
Deepika and Rimil had contributed in fetching India a bronze medal in the women's team event along with Dola Banerjee on Sunday.