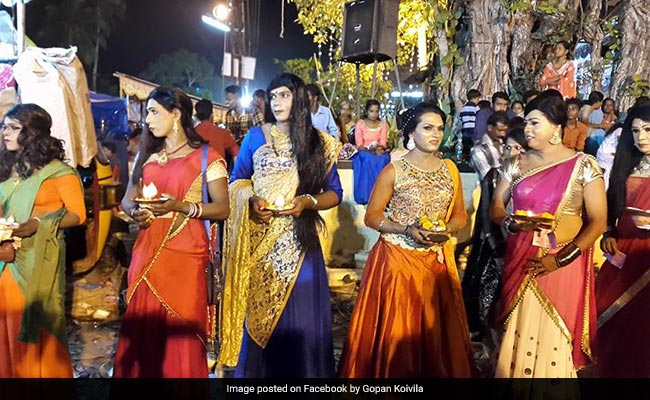 Kollam:
A temple in Kerala has a role to play in blurring the lines of gender. In a 19-day long festival at Kollam's Kottankulangara Devi temple, one could see hundreds of men dressed as women offering prayers to deities. Dissolving not just gender but borders, men from New Zealand and London also too took part in the ritual.
It is believed that a group of boys who used to herd cows would dress up as girls and offer flowers and a coconut dish called "
kottan
" to a stone. Impressed by the devotion, one day, a goddess appeared before one of the boys and blessed him. Subsequently, a temple came up in the place and the ritual became an annual feature.
"Over 5,000 people -- both men and boys -- turned up dressed as women or girls for the prayers this time. Around the same number of people came to watch the fest," president of the temple committee G Hari Kumar said.
The cross-dressing is part of traditional ritual festivities which takes place on the last two days of the festival known as "
Kottankulangara Chamayavilakku
". The men also carry large lamps.
These devotees also aid the business of make-artists around the temple.
"Yesterday (Saturday), I had 20 clients... I take around 45 minutes. While one of us does the makeup, another team works to fix the ladies' hair and yet another group dresses them up in either saree, or traditional Kerala salwar-kameez or Kerala skirt and blouse," says Sunil Master, 45, a dance master who is also a makeup man
While it's difficult to ascertain the claim about the growing size of stone, the number of devotees might see a leap in the coming years.
(With IANS inputs)