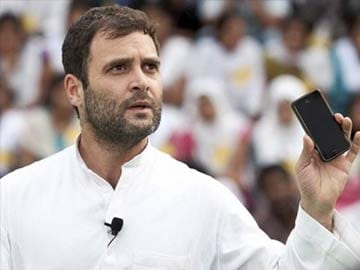 Bangalore:
"We need a smartphone type of education system - open and connected," Rahul Gandhi today said pitching for sweeping reforms in education sector as he spoke to students through a webcast from Bangalore University.
"The revolution that opened up the communication sector, took power out of the hands of 500 MPs and put it into the hands of people. This revolution decentralized the phone. We need to do the same for the education sector.
Gandhi interacted with students from Bangalore and other places and shared their ideas on education in the Silicon Valley of India.
Party sources said this is not an isolated interaction and the exercise would be carried out in other cities as well.
Waving an old black telephone to the audience, Gandhi also illustrated how the telecom revolution led by the late Rajiv Gandhi and Sam Pitroda opened up the system and brought the world at our finger tips.
"We have to transform the education system by making it open and connected and centred around the students," he said sharing his vision on education and nation-building at the campus and thousands others connected virtually from different locations across the country through video conferencing.
He added India's education system was more certification-oriented rather than knowledge-oriented.
"The education system should develop your dream. We need to create an ecosystem that is student-centric and an ecosystem where the teachers are supported through extensive training," he said, according to a Congress release.
Talking about the importance of education he said it was the single most important system to change because it changes the mind.
Gandhi also used the occasion to make a pitch for transforming the political system saying he wanted to see young faces, especially women, in assemblies and the Lok Sabha, noting "only then can our politics change."