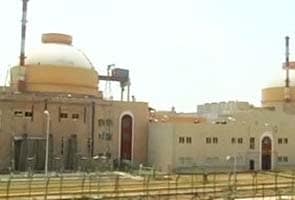 The Indian Department of Atomic Energy has categorically denied the occurrence of any blasts or deaths at the Kudankulam nuclear plant site in southern India. Rumours are travelling faster than radiation, remarked an analyst.
"These are baseless rumours being spread to create panic among the citizens living near the plant. No blast has occurred," Ratan Kumar Sinha, the chairman of the Atomic Energy Commission, told NDTV. "It is someone's wild imagination," he added.
Feverish work is underway at the twin units of the 1000 MW Russia-made nuclear reactors to start them soon. According to RS Sundar, the man in charge of the units, about 4100 workers are currently working "very safely" inside the plant in a bid to start generating much-needed electricity for southern states.
An anti-nuclear agitation had dogged the plant delaying its start up by several months.
The government has already spent about Rs 15,000 crores on the plant, which, according to the Nuclear Power Corporation of India, is one of the safest nuclear reactors in the world. Several layers of safety are built into the plant, including a novel passive cooling mechanism that ensures that Fukushima like blasts don't happen at Kudankulam.
If all goes well and the nuclear watchdog Atomic Energy Regulatory Board gives its approval, the first unit of the Kudankulam nuclear plant could start generating electricity in a matter of weeks. More than 99% of the work has already been completed and several tons of enriched uranium has been loaded in the reactors. The second unit can come online within this year as well.
Tamil Nadu suffers from crippling power shortages and this could provide succor not just to Tamil Nadu but also Karnataka, Puducherry and Kerala.