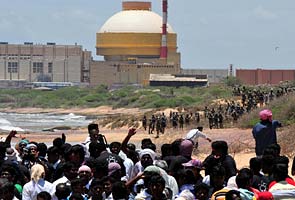 New Delhi:
The Supreme Court today reserved its verdict on petitions seeking stringent safety measures for the Kudankulam Nuclear Power Plant in Tamil Nadu.
The top court was hearing a batch of petitions challenging the Madras High Court order allowing fuel loading at the plant.
Prashant Bhushan, who appeared for a petitioner, wanted the court to restrain the Centre from making the plant operational or take an undertaking. He said the Prime Minister and other ministers have already made formal announcements that the plant will be operationalised in December.
The court said, "When they are not giving an undertaking what shall we do? We shall consider."
Petitioners argued that 17 safety measures suggested by an expert panel are not in place. The Centre rebutted the arguement claiming these 17 security measures are only additional security to be done in due course.
The Centre also argued that the plant can withstand disasters similar to what Japan's Fukushima plant faced.