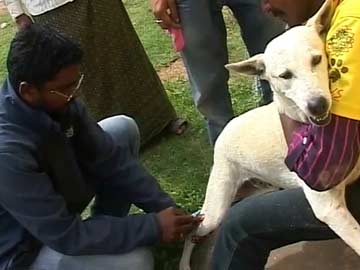 Kothanahalli, Karnataka:
Tommy is five years old and a loved pet in Sarojamma's home in Kothanahalli village just outside the Bandipur Tiger Reserve in Karnataka. She is also part of a mass vaccination project that will protect her and other dogs against canine distemper and other diseases. The project also helps save tigers and leopards from potentially catching a fatal disease.
Canine distemper, found in dogs, can be transmitted to wild cats - with fatal consequences. Tigers have been found to have died of this disease. The National Tiger Conservation Authority had instructed states to take measures to prevent this from happening.
On the outskirts of Bandipur Tiger Reserve, an effort has been made to do just that. In the more than 120 villages bordering it, a massive vaccination drive was carried out.
The project was put together by Sunita Dhairyam who runs the Mariyamma Charitable Trust. "Once the villagers know what we are doing - and that we are not killing their dogs - they are fine," she said.
"We inject the dog. After 21 days the immunity is in them, they develop antibodies. The entire village is carrying healthy dogs," said Dr Boon Allwin, the vet conducted the vaccinations.
A team of specially-trained dog catchers moved from village to village with doses of a vaccine that protects the canines against a variety of diseases. The animals were also given a shot to protect them against rabies.
"So far, we have vaccinated almost 700 dogs as part of this project," said Mahadevan, who headed the team of dog catchers.
"It's good for us if they give these injections to prevent diseases. In case, somebody comes home and the dog bites them, it is a problem for us," said Sarojamma, when asked about the vaccination drive.
The vaccination project, which is receiving funding from the World Wildlife Fund and logistical support from the Karnataka Forest Department, is proving to be a very important step in protecting India's tigers.