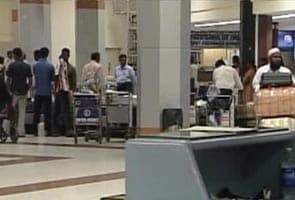 Chennai:
A fire at the Chennai Airport's Air Traffic Control (ATC) room affected air traffic for almost four hours. Authorities say the fire broke out at around 2:30 am after batteries of a UPS burst.
"There was a small fire by the bursting of batteries. And there were flight disruptions from 2:30 am to 5:15 am. Around 5:15 we started the departures," said Mr Suresh, Chennai Airport director. Arrivals too began later.
Five fire engines were pressed into service and the blaze was doused within 20 minutes. There was no report of any casualty but computers and the ceiling in the ATC hall was damaged in the fire, sources said.
All incoming flights were diverted to other airports. Operation of at least six international flights was affected due to the incident.
A probe has been ordered into the accident.
"We will be following standard procedures, for the fire enquiry and safety assessment," said Mr Suresh.
The disruption also resulted in a swell in passenger numbers at the airport terminal.