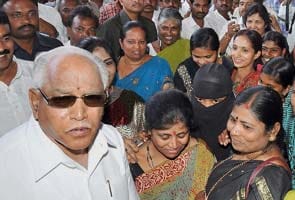 Bangalore:
After months of threats, behind the scene bargaining and public displays of strong emotion, former Karnataka chief minister B S Yeddyurappa finally quit the BJP at the end of November. His next step is formally joining the newly minted Karnataka Janata Party (KJP) on Sunday in Haveri, north Karnataka.
Mr Yeddyurappa, who was forced to step down following corruption charges, had done much to build up the BJP's presence in Karnataka, heading its first government in south India. But party heads did not agree to his repeated demands to be reinstated - or given the post of state party president.
Mr Yeddyurappa staged several shows of strength over the months - huddling with his followers in resorts outside Bangalore - and being openly critical of party leadership, especially long-time rival Ananth Kumar. But the high command did not relent - and Mr Yeddyurappa parted ways with the BJP after decades of being its most powerful leader in the state.
Mr Yeddyurappa still has his loyalists although so far none of the MLAs close to him have formally joined the KJP. Mr Yeddyurappa has stated that he does not want to bring down the government or embarrass the BJP with his new party. Given his past record, the BJP leadership will be taking that claim with a liberal pinch of salt. And it will be interesting to see how many BJP MLAs and ministers do turn up at the Haveri rally to show their support to him.
Sunday's event could only be billed as a show of strength. Mr Yeddyurappa will hope that sufficient numbers will turn up in Haveri to give notice that the KJP could have a significant impact on next year's assembly elections. He would like to play kingmaker if he cannot be the king.
And while the BJP leadership, both in New Delhi and Karnataka, may claim not to be bothered about what Yeddyurappa does next, it is certain they will be keeping a close eye on Haveri this Sunday.