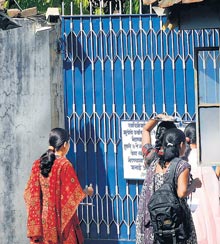 Pune:
Fed up of not being able to control boyfriends sneaking into the women's hostel and unauthorised entry of other visitors, the University of Pune (UoP) some time ago put up CCTV cameras at the main gate of the Savitribai Phule Girls' Hostel on the campus. But students are not too kicked about the idea of an electronic eye monitoring their every move and have tried damaging the security apparatus.
Around 900 women students stay on the hostel premises, which have eight buildings. The CCTV footage is monitored round-the-clock by security personnel.
UoP Vice-Chancellor R K Shevgaonkar said students do not realise the importance of CCTV cameras as a security measure and instead consider it a violation of privacy.
"Before increasing the number of CCTV cameras, we have to think of the response to the existing ones. Though we consider it a great security apparatus, students have tried to break or tamper with the CCTV cameras a few times as they consider it a violation of their privacy," said Shevgaonkar.
Hostel students said the cameras that are mounted at the main gate record every visitor's movements and they themselves do not feel free to move about in the hostels.
"In class or on the university campus, we have to follow the rules. But the hostel is like our second home and here we should be able to live the way we want to," said a history department student, who requested anonymity. "We don't want moral policing here or a watch being kept on us."
Another woman who studied in the Marathi department said that she got her first taste of freedom at the hostel and does not want any monitoring.
"We are glad that at least there are no cameras inside the hostel. Anyway, people can sneak in if they want to by some means or the other, so what is the point of having cameras?" she said. "If they want to put up the cameras, they can. But if some people feel threatened and tamper with them then the university will have to unnecessarily bear the loss."
Professor Bhaskar Shejwal, who is rector of the hostel has called the CCTV cameras a great help as they not only record all movements of people coming in and going out of hostels but also serve as a deterrent. He said even though students have tried to make the cameras defunct they had not been able to do much damage.
"Thankfully, they haven't tried breaking the cameras yet, and it's not even possible to do so as security personnel are always around. Yes, some mischief-mongers have tried pulling the wires or putting cloth over the cameras, but every time we have detected it in time and rectified it," he said.