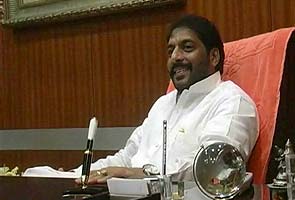 New Delhi:
Till a suicide note named him earlier this month, Gopal Goyal Kanda seemed unstoppable. A series of criminal cases had no bearings on his political aspirations. His range of businesses, including real estate interests in Gurgaon, delivered an A-list lifestyle including a palatial mansion in his constituency of Sirsa with a range of SUVs lined up in the driveway.
Locals in Sirsa in Haryana say the complex also has a makeshift helipad. His brother, Govind, is seen often in a car with a
lal batti
or red beacon, reserved for ministers - which Mr Kanda was till earlier this month when he quit after being accused of abetment to suicide.
On August 5, his former employee, 23-year-old Geetika Sharma hanged herself in her home in Delhi. In her suicide note, she said that Mr Kanda and one of his senior executives, Aruna Chaddha, had been harassing her. The police did not question Mr Kanda - it said it was prepping a case against him. In an interview to NDTV, Mr Kanda said that he had been fond of Geetika, but that her family's allegations that he drove her to her death were expressions of misplaced grief.
Then, Mr Kanda failed to keep an appointment for his interrogation by the cops. His lawyers filed for anticipatory bail while the former minister disappeared for 11 days.
On August 18, hours after the Delhi High Court refused his request for bail, Mr Kanda showed up at a police station in Delhi over the weekend. Seated in a van belonging to a news channel, he had managed to drive undetected through at least four police checkposts, set up specially to locate him. The Delhi Police, attacked for not being able to trace him, wanted to prove it had found the politician at last. He was determined to show that he was surrendering, to cooperate with investigations. The police says that it has evidence that when Geetika quit his company and moved to the UAE, he visited her there to pressure her to return to Delhi. She gave in two months later, and moved back. It was only in May this year that she quit his firm after he gave her a loan to enrol for an MBA. In the hours before she died, Geetika's mother had allegedly informed her of a threatening call made by Mr Kanda in which he asked for his money to be returned if Geetika was not willing to work once again for him.
In just 15 years, Gopal Kanda went from shoe-shop owner to Haryana's Minister of State for Home. He carefully designed his own ascent, using his wealth to power his political ambitions, and by switching teams at opportune moments.
From 1999 to 2004, the Chautalas were in power in Haryana with their Indian National Lok Dal (INLD) party. Mr Kanda, who is married with three children, was a loyalist, and was often described as the protege; of then chief minister Om Prakash Chautala. When the Congress came to power in 2004, Mr Kanda began flirting with its leaders. In 2009, when he failed to secure a ticket from either the Congress party or the INLD, Mr Kanda decided to run as an independent candidate. He won Sirsa from a man who had been elected from the constituency five times, making good on his threat to corner a chunk of the Chautalas' political turf.
The Congress had 40 legislators. To form the government, it needed at least another six. Mr Kanda was among a group of independents who decided to support Bhupinder Hooda as chief minister. Mr Kanda was rewarded with the important Home portfolio - useful, since he had 10 criminal cases pending against him by then.
In 2008, Mr Kanda was accused of assaulting income tax officials who visited his home in Sirsa to evaluate his property and assets. In July 2011, his security guards beat up former cricketer Atul Wassan for overtaking Mr Kanda's car.