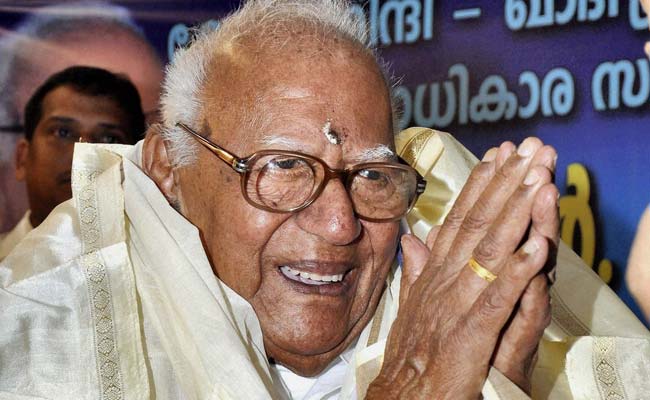 Kochi:
Vaidyanathapura Rama Krishna Iyer, a legend in Indian judiciary, died today at a Kochi hospital of multiple organ failure. He was 100. A visionary, many of his judgements on issues like human rights and environment protection were later turned into law by Parliament.
Prime Minister Narendra Modi tweeted:
Fine lawyer,eminent jurist,incredible philosopher & above all a phenomenal human being.I bow to Justice Krishna Iyer pic.twitter.com/SE4AeuBOb9

- Narendra Modi (@narendramodi) December 4, 2014
Born in Palakkad in Kerala, Justice Iyer made the unusual transition from politician to judge - he was a legislator and the law minister in 1957 in Kerala's first Left government. In 1968, he became a judge in Kerala before being appointed to the Supreme Court in 1973.
Justice Iyer is often referred to as the "'man who triggered the Emergency." On June 24, 1975 he refused an unconditional stay on a Allahabad High Court verdict holding then-Prime Minister Indira Gandhi guilty of electoral malpractices and invalidating her election. The next day, Indira Gandhi declared Emergency.
Mrs Gandhi had sought suspension of the High Court order that would disqualify her for six years. Justice Iyer's order allowed Mrs Gandhi to function as Prime Minister, attend the Lok Sabha, but without a right to vote. The order won the judge both massive appreciation and criticism.
But VR Krishna Iyer had many more judgements that he will be remembered for, not least the decision that a victim can appeal in a criminal case. He expanded the scope of the system of Public Interest Litigation (PIL) which was started by PN Bhagwati, the then-chief justice of India. His orders like banning routine handcuffing of prisoners and the Shamser Singh case which interpreted the powers of the cabinet vis-a-vis the President, earned him a place among renowned legal scholars such as Earl Warren, former Chief Justice of the US, and Lord Denning.
He was famous not only for his fair judgements but also for his mastery over the English language and how he used it in his judgements. Justice Iyer retired from the Supreme Court in 1980.
Chief Justice of India AS Anand referred to him as the "Bhisma Pithamah" (a great patriarch in the epic Mahabharat) of the Indian judiciary.
And his approach to burning issues prompted eminent jurist Fali S Nariman to say, "when Krishna Iyer speaks, the nation listens".
Swami or VKR, as he was fondly called, had joined a dharna last year at the age of 99 in Ernakulam. Several political leaders and legal luminaries had honoured and wished him on November 15, his 100th birthday.
He was popular for his sense of humour and authored several books.
Justice Iyer's wife died 40 years ago, but he often spoke about her as being his strength.