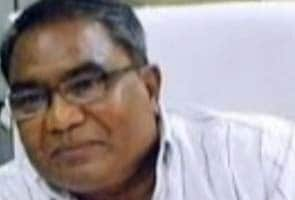 New Delhi:
Mahendra Karma, who was shot dead by suspected Naxalites in Chhattisgarh's Jagdalpur area on May 25, had been on their hit-list for a long time. He was, after all, the architect of the Salwa Judum, an armed anti-Naxal vigilante movement that he founded in 2005.
Launching the movement in Bhairamgarh in Bijapur in the summer of 2005, Mr Karma had said, "So far, we have not addressed the roots of the Naxal problem. Earlier arrangements were not successful. No matter what the arrangement was, the common man and security forces faced each other. This is the first such example where the villagers are fighting shoulder-to-shoulder with security forces in the interests of the country. This is a historic struggle because the
aam admi
(common man) supports it."
A native of the Bastar region from a landowning family, Mr Karma's antipathy towards Naxalites dates back decades. In 1991, he had launched the Jan Jagran Andolan, the precursor to Salwa Judum, but it folded up within a few years.
Mr Karma's initial political affiliation was with the Communist Party of India (CPI). In 1980, he won the general elections on a CPI ticket.
But, the 'Bastar Tiger', as Mr Karma was popularly called, soon changed his political stripes.
In the 1996 general elections, he contested and won as an independent candidate from Bastar. He later joined the Congress and turned his attention to state politics. He was elected as a Member of Legislative Assembly or MLA from Dantewada and served as prisons minister in Digvijaya Singh's cabinet in the then undivided Madhya Pradesh.
After the bifurcation of Madhya Pradesh, he joined Ajit Jogi's Chhattisgarh government where he was Industries and Commerce Minister between 2000 and 2004. When the Congress lost power to the BJP, he served as Leader of the Opposition between 2004 and 2008.
But, Mr Karma, despite all these stints in mainstream politics and government, is better known as the promoter of Salwa Judum, which had the tacit support of both the BJP and the Congress. The years when it was active witnessed a bloodbath in the Bastar region, as Maoists and Salwa Judum members targeted each other's supporters. Caught in their murderous cross-fire were hundreds of tribals and villagers in the region.
After widespread condemnation of Salwa Judum's various transgressions - its members were accused of gross human rights violations, like the Naxalites are - the Supreme Court ruled against it in 2008, and it was officially disbanded.
Bereft of the Salwa Judum's armed forces, Mr Karma was vulnerable to Naxal attempts to assassinate him. He survived one such attempt last year and was granted Z-plus security by the state, which meant that a posse of about 30 policemen guarded him.
But on a fateful Saturday afternoon, when he was returning from a Congress party rally in Jagdalpur, accompanied by dozens of party workers, there was no escape route for Mr Karma.
Eyewitnesses say that around 250 suspected Naxalites positioned themselves on hillocks along the convoy's route and targetted the cars with landmines and a hail of bullets. The attackers specifically called out for Mr Karma and searched each car for him, a witness said.
When he realised that the convoy had been surrounded and that people could lose their lives, Mr Karma is said to have stepped out of his car and surrendered and asked for the others to be spared. He was shot, point blank.
Lakhan Singh, one of Mr Karma's personal security officers who survived the attack, says that if the leader had not surrendered, none of the survivors would have returned home alive.
A total of 24 people were killed and dozens injured in this massacre, one of the worst the region has seen in a while.
Mr Karma was 62 years old.