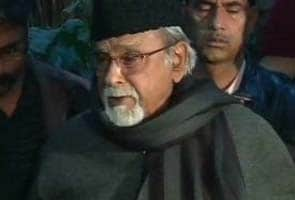 New Delhi:
Diplomat, philosopher, gentleman politician and prime minister by chance. That's how Inder Kumar Gujral legacy will be remembered. He died today at the age of 93 of a lung infection that had been troubling him for some days. He was also on dialysis for over a year.
A two-time Foreign Minister, first in the VP Singh government and then the United Front government, Mr Gujral became Prime Minister in 1996 for a year, at a time India was still getting used to the chaos of coalition politics and governments. The Congress withdrew support to the United Front government, agreeing to prop it up only after Mr Gujral replaced H D Deve Gowda as the PM, averting a mid-term poll.
As PM, Mr Gujral inherited the bitterness that defined the equation between the United Front and the Congress but always maintained a cordial equation with party leaders, having in the Congress earlier - a personal touch that made him popular across party lines.
Still, even though he was prime minister for only a year, Mr Gujral was several times tested politically.
His first test was from within the United Front government. Lalu Yadav who was chief minister of Bihar was accused in the fodder scam and the CBI wanted to prosecute him. As PM, Mr Gujral kept publicly telling him to quit - which Mr Yadav ignored - without doing much to make him go. And when CBI director Joginder Singh was moved out, it was seen as a move to keep the Bihar chief minister safe.
Another controversial decision of Mr Gujral's government was to recommend President's Rule in Uttar Pradesh after unruly scenes in the state Assembly in October 1997. The recommendation was sent back by President KR Narayanan and the Allahabad High Court also ruled against it.
It was another feud with the Congress that sealed the fate of Mr Gujral's government. In 1997, parts of the Jain Commission report on the conspiracy to assassinate Rajiv Gandhi were leaked. The leaks indicted the DMK for their tacit support of the LTTE and the Congress, then led by Sitaram Kesri demanded that DMK members in the United Front government be dropped. With Mr Gujral refusing, the Congress eventually withdrew support in November 1997. IK Gujral had been Prime Minister for just under one year.
That streak of holding his own when it came to principle had been seen earlier well. The best example of this was when he quit Indira Gandhi's cabinet as information and broadcasting minister when Sanjay Gandhi was appointed as an unofficial censor for newspapers during the Emergency.
But his lasting legacy is perhaps the Gujral doctrine that came to define his innings as a two-time foreign minister. Based on the premise that Indian's stature as a regional power cannot be divorced from its equation with its immediate neighbours, the Gujral Doctrine was seen to be a serious effort at reaching out to Pakistan.
Over the years though, particularly after a series of terrorist attacks, the Gujral doctrine came to be criticised particularly IK Gujral's decision to dismantle India's military ability to launch covert strikes against groups like the Lashkar-e-Taiba.
He did trip up a couple of times as foreign minister, though. The best remembered incident will be the big hug he gave Iraqi dictator Saddam Hussein when he went to meet him after the first Gulf War in 1991, precipitated by Iraq's invasion of Kuwait.
A fluent Urdu speaker, Mr Gujral came from one of Delhi's most accomplished families. His elder son Naresh is a Rajya Saba MP and his brother Satish, one of India's finest architects and painters.