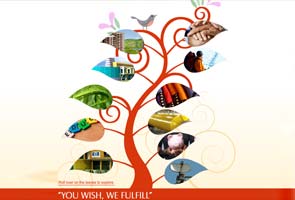 Kolkata:
On his company's website, there is no photograph of Sudipta Sen. The message-from-the-CMD page is dominated by a big picture of a chair with a speech bubble pointing to it. The chair is empty; this man is missing even here.
Mr Sen is the chairman and managing director of Saradha, a business group built on a chit fund, the collapse of which has left lakhs and lakhs of people in West Bengal in the lurch.
People who had put their hard earned savings into Mr Sen's chit fund on the promise of abnormally high returns. Now, the chit fund has gone bust and he is on the run.
Very little is known about Sudipta Sen. He is in his mid-fifties, a reclusive man, described by people as soft spoken and charming. Some say he is the son of a man called Bhudeb Sen, who used to run a chit fund called Sanchayani in the 1980s and which went bust 10 years ago. The Saradha chit fund was launched in 2006. There are others who say that Mr Sen emphatically denies any link to Bhudub or Sanchayani.
It is rumoured that Sudipta Sen had plastic surgery done in the 1990s to change his looks. The why - if at all - is not clear. Even though he headed a media empire, which included at least 10 newspapers and TV channels, Mr Sen shunned cameras.
It is not even known where he lived. He is believed to own at least five houses in Kolkata's elite Salt Lake area alone. West Bengal chief minister Mamata Banerjee yesterday said she had heard Mr Sen had three wives.
She has now ordered the missing Sudipta Sen's arrest. Political parties in the state are squabbling over whose patronage he enjoyed as his ponzi scheme flourished unhindered.
The Left and Congress accuse Ms Banerjee's party, the Trinamool Congress, of having links with him, who, they allege, had even bought a Mamata Banerjee painting for more than a crore.
The Trinamool has denied all association with Mr Sen. Its Rajya Sabha MP Kunal Ghosh, who headed Saradha's media division says he was only a "salaried employeee" who barely knew Sudipta Sen. Mamata Banerjee's party alleges that chit funds like Saradha were encouraged by the Left that ruled the state for 34 years before she won the 2011 Assembly elections.
Meanwhile, about 3 lakh agents say they fear for their lives as tens of lakhs of angry people demand that the money they put in the chit fund be returned. A woman who had invested Rs 30,000 in the fund set herself on fire in desperation.
In Sudipta Sen's signed message on his website, the irony of such statements now stands out - "Only our bonding to save the community can help the country to recover from this situation" and "We give priority to moral values" and even, "...we have started our work with the common people."