One of the first things which struck me after taking over the responsibility as Lieutenant Governor of Puducherry was how do I align all departments serving the people - since government is an organic whole.
Even if each department has a core portfolio, its performance is interrelated with others, and it is also interdependent on others.
In the past, information was shared through postal services. Endorsing copies to each other for information. Hard copies. Some lost on the way. One was not sure when was that message read!
Later it became by e-mail, either on one-to-one basis or group mails. What is/was not guaranteed was speed in response.
Remember the challenge before good governance is urgency and the sensitivity of speed.
Things changed considerably with a BlackBerry in our hands in the last decade and later by other smartphones. But was the government official a major user? Were government departments major consumers of this new connectivity and smartphones? The general attitude was why create more work? Why put themselves on the block 24x7?
I recall the first hand-instrument I received when I reported for my assignment at the UN a decade ago was a BlackBerry along with a mobile phone. Then the two were separate. 3G was not there still.
Fast forward. How much it has all changed. The fastest driver has been the WhatsApp application.
This is what I decided to put to maximum use.
Our first endeavour was to bring together all Heads of Departments on one platform to start communicating with each other on an real-time basis and keep up the conversation. Chat with each other. Be friends without even formal dinners.
Once we brought the secretaries and heads together, they brought their own units together on groups. So bigger circle gave birth to inner circles and later to intra-circles of related groups. So we started to become wheels within wheels, somewhere overlapping and connected.
It dramatically improved our information sharing. Meeting notices, minutes of meetings, news clips, photographs, even shared short videos, travels and tour notes, and more. Now there was even a space created for shared achievements missing so far. Most of all ideating.
To ensure that WhatsApp conversation is not lost, we forwarded the content of these groups by e-mail to all. They could then use it for formal file processes on a case-to-case basis.
This process has aligned the governance within weeks.
But the biggest breakthrough has come for groups formed for grievance redressal. A message coming on Twitter or Facebook or a text message or an excerpt shared on WhatsApp taken from another source of social networks is getting a response within no time.
Example 1: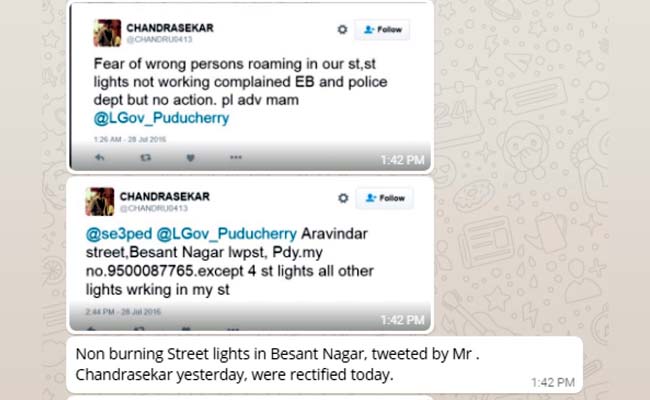 Example 2: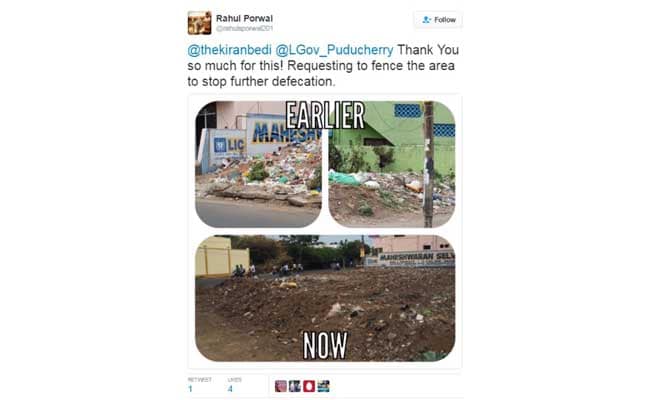 These are a just a few illustrations.
We have been replying to messages asking people to feel free to report more concerns or complaints to us. We are here for them. People can tweet us
@lgov_puducherry
, e-mail us at
lg.pon@nic.in
or log on to
facebook.com/ltgov.puducherry
.
The effective use of social networking democratises grass-roots governance. Earlier, the response of government was to a handful who could command a reply. Now an ordinary citizen can demand one.
The choice before public servants by this democratisation is either to react on being told, or to initiate a prevention of the problem by responding to a warning or alert.
Correction will have to be done. The times have changed. All public officials must embrace social networking without further delay.
With inputs from Dr. Amrita Bahl (officer on special duty to LG).
(Kiran Bedi is Lieutenant Governor, Puducherry. She is the first woman to have joined officer ranks of Indian Police Service. Recipient of Magsaysay Award (1994) for police and prison reforms, she has also worked as a UN police advisor. A tennis champion, she earned a PhD from IIT Delhi and is a Nehru Fellow. She's founded many NGOs and is the author of several books.)
Disclaimer: The opinions expressed within this article are the personal opinions of the author. The facts and opinions appearing in the article do not reflect the views of NDTV and NDTV does not assume any responsibility or liability for the same.