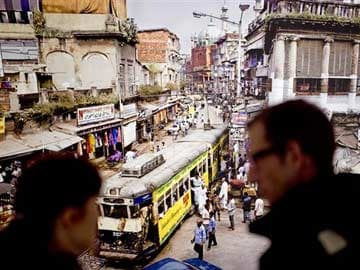 20 reasons why Calcutta/Kolkata was, growing up in the '80s and early '90s, truly the City of Joy. Most of these things, you can't do anymore. Bring Skyroom back, we say.
Aamader daabi maantey hobe
. Tell us your Kolkata stories using the comments section below.
1.Musical Bandbox, the Sunday soundtrack to your life. At 1pm, after you'd finished watching Sunday morning TV, you turned on the radio and listened to whatever was burning up the charts across the world.
2. You never tired of visiting the Alipore Zoo to gawk at Robert Clive's giant tortoise who was at least 150 when he died in 2006. You didn't know then that he rejoiced in the unlikely name of Adwaita. At the end of the trip, you might go to the Bijoli Grill restaurant at the zoo for an ice cream soda and a fish orly, but not if it was a school trip.
3. Before the authorities evicted picknickers from the lawns of Victoria Memorial, many a weekend would be spent happily shoveling down sandwiches and annoying canoodling couples. Mostly, you didn't bother going into the Memorial itself.
4. Excursions to New Market almost always included stocking up on sponge fingers, peppermint fudge and stick jaws at M X D'Gama (now extinct) and Nahoum's. You were literally a kid in a candy store.
5. Clutching your bag of treats from M X D'Gama, you went on over to the Chinese shoe shops where your mother never let you buy the cherry-coloured elasticated ballerina pumps/many-buckled cowboy boots you so desperately wanted. You also saved up to buy silver jewellery from Chamba Lama in the shape of skulls, scissors and keys. Lunch would be had at Badshah or Nizam's.
6. When your pocket money stretched to the price of a movie ticket, you bought Dress Circle seats at New Empire, Globe and Lighthouse. You arrived way early, so as not to miss the advertisement for Sangam Beauty Parlour ("we/oui/uyee have no branch/brunch/brants").
7. Every Friday morning you could, you skipped school for Bangladesh TV where you could watch Tom And Jerry, The Jetsons and other shows you couldn't get on Doordarshan. If your TV antenna failed to catch the signal, it was a Friday (and feigned stomach ache) wasted.
8. Winter was the season to be jolly at the Book Fair and the annual flower show at the Horticultural Gardens. Well wrapped up against the chill - it was below 30 degrees after all. Mufflers out.
9. Skyroom. Oh, the late lamented Skyroom. On any other day, you would go to Mocambo, Blue Fox or Peter Cat (in fact, you still do/can eat at Mocambo and Peter Cat). But on a special day, nothing less than prawn cocktail, chicken a la Kiev and zucotta at Skyroom would do.
10. When there was loadshedding, as there frequently was, you played building hide-and-seek. When you finally went in to do your homework, and the lights were still out, you had to do your sums by the light of a kerosene lamp, inverter power having run out or not having been used at all.
11. On Christmas Eve, you attended midnight mass at St Paul's Cathedral, in a suitable worshipful state of mind. Some of the worshipfulness was a by-product of the gleeful anticipation with which you were considering the monster Christmas feast you would be having at one of the clubs the next day, from where you would have to be rolled home on account of having eaten far, far too much ham and turkey.
12. Your shopping meccas were Weekender, Treasure Island and Shreeram Arcade. This usually meant you wore exactly the same thing as every other person you knew. You also bought stickers and whatnot at Giggles.
13. You had at least 10 unexpected holidays from school every year, courtesy the local Red '
michhil
' or protest marches ("
aamaader daabi maante hobey, cholbey na cholbe na
") and the violent monsoon that flooded the city annually.
14. You bought second-hand National Geographics and Reader's Digests from Free School Street. You told your parents these were for school projects. While you were there, you also snuck in an LP or two and then adjourned to How Hua to lunch on Chimney Soup and momos.
15. On weekends, you would queue up at Flury's for a table to breakfast on sausage rolls and Viennese coffee. You went home with a bagful of rum balls. Flury's is also where your birthday cakes used to come from - or Kathleen - before you switched to the newer and pricier Kookie Jar and Upper Crust.
16. Some Sundays, you braved the long and smelly drive across the Bypass, past the tanneries of Tangra, to spend half a day boating at Mirania. If you are old enough, you'll remember going to the Airport Hotel for coffee and club sandwiches before or after.
17. You had ice cream at Sub Zero and played video games next door. This was almost like being at Pop Tate's Chok'lit Shoppe in Riverdale.
18. You woke up early on a cool Sunday morning so as to get to Old Chinatown in time for a breakfast of dumpling soup ladled out of cauldrons, prawn crackers and unfamiliar but satisfying sausages.
19. After school, you and a bunch of friends went to Scoop to have ice cream and pizza while watching the river Hooghly flow by.
20. After-hours entertainment often meant driving out to the bridges - old and new, Howrah Bridge and Vidyasagar Setu. For a while, the colourful Fountain of Joy became your destination.