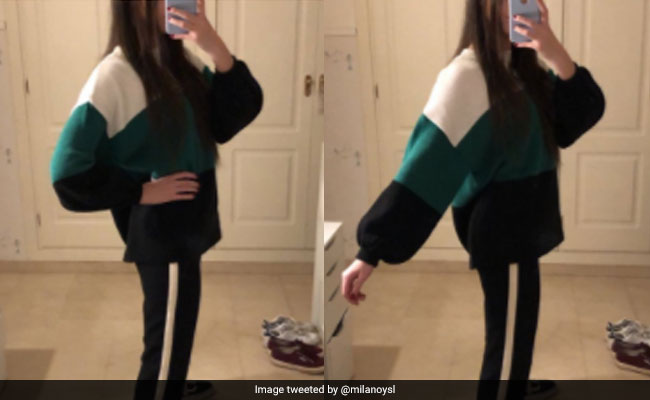 On Sunday, Marisol Villanueva from Spain posted an innocent mirror selfie on Twitter. All she wanted to show was how she paired two clashing patterns - vertical and horizontal stripes. But Twitter couldn't help but notice something strange happening in the photos. It wasn't her clothes.
The woman wore a horizontal-striped oversized sweater with black track pants that had a vertical pinstripe running down the middle. Twitter ignored her clothes and promptly pointed out the photos made her legs appear really skinny, like really.
Can you see it?
yea i just combined vertical and horizontal stripes pic.twitter.com/YxizoRBERl

— marisol (@milanoysl) February 24, 2018
The pinstripe on the pants made her perfectly normal legs look like something that belonged to a cartoon character.
Twitter immediately noticed the optical illusion. Some even expressed concern about her health
for a second i thought the tan stripe on your joggers was the gap between your thighs and i ALMOST LOST IT

— aria (@IaviedeIuxe) February 24, 2018
why was this the first thing that i thought of... pic.twitter.com/qd21XgdMyX

— Tyler Alt (@alt2102) February 25, 2018
OML SIS for a moment I was concerned about ur health and well being but nvm lmao stay slaying and in good health

— bbgrl yikess (@Cheonsa_of_kpop) February 25, 2018
first glance, I saw two legs lmao!
Also, You're famous now, girlie!

— (@Tiffy_Russell) February 25, 2018
I thought that someone had put a Gru legs on you. Greetings from Mexico. pic.twitter.com/WSioIr9fyt

— Emmanuel Pinzn (@MackyPinzon) February 25, 2018
MY GOD I THOUGHT THE WHITE STRIPES WERE YOUR LEGS I WAS ABOUT TO SCREAM

— *pinned (@Iuvjimin_) February 24, 2018
Her legs are just fine, she clarified with this hilarious tweet.
no i don't look like this pic.twitter.com/DarjAwcJVj

— marisol (@milanoysl) February 24, 2018
Here's the explanation behind the bizarre appearance
It's when the pictures ain't open and you only see a little part of the legs

— Vilde (@VildeAlwaysLate) February 24, 2018
Go ahead and open both the photos to see how your mind was playing tricks with you.
The optical illusion went viral and transcended through online platforms and even countries. In two days, the post was retweeted 6,900 times and collected 41,000 favourites.
It also became a source of many memes which Ms Villanueva posted on her Twitter
i love twitter pic.twitter.com/z6KffAJVqz

— marisol (@milanoysl) February 27, 2018
The internet really loves optical illusion. Earlier in February, an
optical illusion featuring two identical pictures
went viral. People on the Internet were driven crazy by the fact that the two identical pictures appeared different when placed side by side.Click for more
trending news