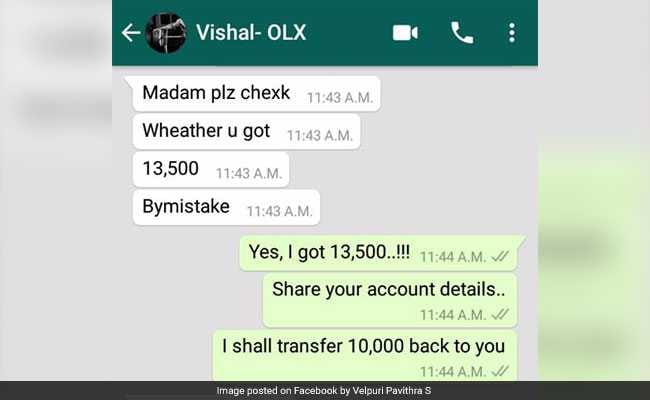 In a day and age when many people rely on online transactions, Pune resident Pavithra Velpuri's now-viral Facebook post comes as a cautionary tale. In her post, published on July 21, Ms Velpuri details how she almost got scammed while using OLX, a platform where people buy and sell used goods. She hopes sharing her experience will help others to be more cautious while making online transactions.
"I just wanted to share the incident with others and make them aware of how there are people trying in such twisted ways to con people," Ms Velpuri tells NDTV.
In her post, complete with a disclaimer saying she is "NOT against OLX", Ms Velpuri talks about posting an ad for a stroller and receiving a response from a potential buyer. Once the deal was sealed, Ms Velpuri writes she shared her bank account details with the buyer on WhatsApp. Within minutes, she received an SMS "from one of these 5 digit numbers (like 59444)" saying her account had been credited with Rs 13,500 even though the price of the stroller was Rs 3,500. She immediately questioned the buyer about the extra money, who told her it was a mistake. He then requested her to transfer the extra 10,000 rupees to his mother's Paytm account, saying it was intended for her.
Sensing something fishy, Ms Velpuri checked her account and realised that no money had been transferred. Meanwhile, the buyer kept calling asking for the money, so she confronted him. He eventually hung up and there was no communication thereafter.
Ms Velpuri eventually got in touch with OLX and was told they had blocked the user after her complaint. She also reported the incident to the local police station and the cyber cell.
Since being published, the post has collected over 3,100 reactions and more than 5,800 shares so far.
Ms Velpuri hopes that others can learn from her experience.
"Like I mentioned in my disclaimer, I am neither against technology nor OLX. I would recommend people to carry out in-person financial transactions to avoid experiences like these," she tells NDTV. "We need to be careful as these websites cannot vouch for the sellers'/buyers' backgrounds right?" she adds.
Thanking Ms Velpuri for alerting them about the incident, a spokesperson for OLX, in an email response, told NDTV: "The safety and well being of our users is of utmost importance to us. As soon as we learnt of the incident we blocked the user's account from our platform. This ensures that the accused can neither reach out to the said user or to any other OLX user."
The OLX statement goes on to say: "When the police reach out to us, we will support the investigation in whatever way we can."Click for more
trending news