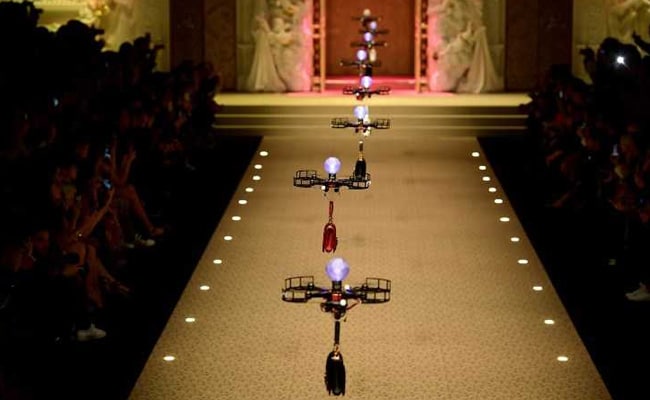 Is this the future of fashion? That's probably the question you'll be asking yourself after you see what happened at Dolce and Gabbana's fashion show on Sunday. At the fashion house's show in Milan, drones - yes, drones - modelled handbags. Small drones buzzed down the runway showing off D&G's latest quilted handbags, much to the audience's amusement.
A video posted on
YouTube by Dolce and Gabbana
shows their Fall Winter 2018/19 women's collection open dramatically.
The doors of a mock church open as music blares and the house lights go down. Then, a small drone flies out carrying a red quilted "Devotion" handbag. More drones follow, all carrying the handbags in different colours.
Take a look at the bizarre sight below:
According to
The Cut
, guests at the fashion show were asked to switch off the Wi-Fi on their phones to avoid interfering with the drones' signals. After about 45 minutes of confusion, a voice on a loudspeaker started calling out the usernames of guests who still hadn't unplugged, urging them to switch off their hotspots and allow the show to commence.
The show's dramatic opening elicited gasps from the audience, which included Vogue's Editor-in-Chief Anna Wintour.
It also had social media positively buzzing.
Models are SO last season! Dolce & Gabbana uses drones to model the latest handbags. #MFWpic.twitter.com/F27myZeJrl

— M. (@MEENAVOGUEE) February 25, 2018
Dolce and Gabbana used drones to showcase their collections of handbag. Superb! Just changed the game of fashion.

— Nadia Chin (@nadiachin) February 26, 2018
Dolce & Gabbana uses drones in place of Models on the runway to model latest handbags. pic.twitter.com/Or6pmiAiSx

— Emeka Obia (@Emeka_talks) February 26, 2018
This further proves no one is safe from being made obsolete by technology.

— Emeka Obia (@Emeka_talks) February 26, 2018
Drones were used on a catwalk by D&G YES that's how #technology is quietly creeping into all walks of life...The #future will be very interesting. pic.twitter.com/jafwmRo78B

— Fakhr-e-Alam (@falamb3) February 26, 2018
Designing runway drones for dolce and gabbana is exactly what I want to do with my engineering degree

— Adrian Yong (@adrianjyong) February 26, 2018
Drones... putting models out of the gig since 2018 @dolcegabbanapic.twitter.com/p6yEOtr9eA

— Kisszel Malazarte (@kissmalazarte) February 26, 2018
Don't worry though, as seen in the video, after the drones returned backstage, actual models did have a chance to sashay down the runway, showing off D&G's latest collection.
Are drones the future of fashion? Let us know what you think in the comments section below.Click for more
trending news