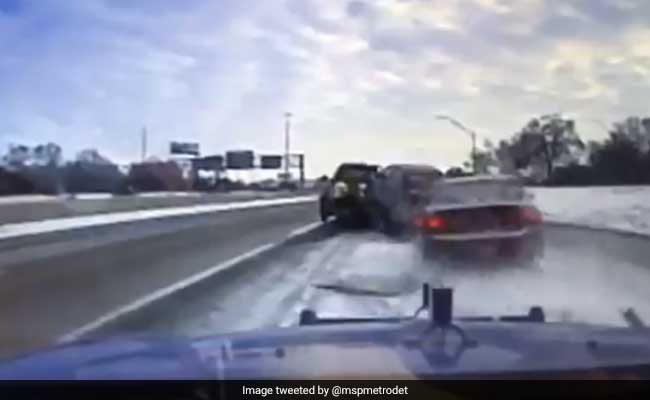 A tow truck driver in Michigan, USA had a brush with death as a car rammed his vehicle after losing control on an icy, slippery road. The terrifying mishap was caught on a police dashcam.
Footage shows the tow driver walking around the site of a previous car crash when suddenly an out-of-control car heads towards him and crashes into his truck. A cop is heard yelling "no, no, no" seeing the speeding car skidding uncontrollably towards the tow driver.
With just seconds to spare and barely any options, the tow driver is forced to run onto the busy highway further risking his life.
The sedan eventually comes to a halt and lands on top of the tow truck.
Fortunately, the tow driver and others involved in the accident were unharmed. said Michigan state police.
The video was caught on the dashcam of the cop who was doing the paperwork of the previous car crash. It was posted on Twitter as a warning to other drivers to slow down on icy roads.
We talk about slowing down in bad weather and giving us a lane. The trooper saw it coming and was trying to get another car to block the ramp. They never made it. Please give us a lane. pic.twitter.com/rNnV5WXjQG

— MSP Metro Detroit (@mspmetrodet) January 18, 2018
The sedan driver was charged with several traffic violations.
"A trooper was writing a crash that occurred on I-96 in the express lane and this individual came down the ramp from southbound Southfield too fast, lost control of the vehicle and hit the tow truck,'' Lt. Mike Shaw told
Detroit Free Press
.
The errant driver, however, told
wxyz TV
that he wasn't going too fast and he lost control because of the black ice.Click for more
trending news