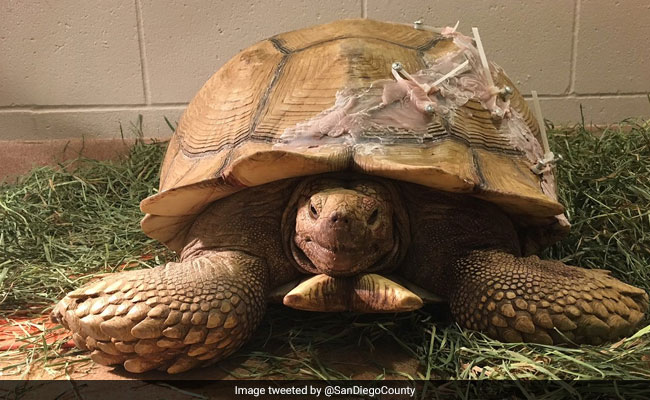 When Humpty the tortoise fell off a wall, he was far luckier than poor Humpty Dumpty of our favourite childhood nursery rhyme. Veterinarians in San Diego were able to repair his cracked shell.
According to
Fox News
, Humpty fell from a 10-foot wall after he was chased by a neighbour's dog on April 18. The fall broke his shell in three places.
The County of San Diego Animal Services brought the 70-pound (or approximately 30 kgs) tortoise to a veterinarian who specialized in reptiles.
Our main tortoise at Animal Services is out of the vet hospital and back at our central shelter. He's comfy and thanks everyone for the well wishes! :D #InternationalTortoiseWeekpic.twitter.com/97RLpHWKaZ

- SanDiegoCounty (@SanDiegoCounty) April 18, 2018
The vet drilled screws into the shell and tied it together for stability. The cracks were then covered up with the material that is used in dentures to seal them.
"This is obviously somebody's pet," said County Animal Services Director Dan DeSousa to
The San Diego Union Tribune
. "The critter is probably 40 years old. Somebody has been taking good care of this thing."
"He was released from the veterinary specialty hospital earlier today and he is now convalescing at our Gaines Street shelter," said the County of San Diego Department of Animal Services in a Facebook post on April 19.
Humpty's surgery cost $4,000, and it was paid for through a donor-driven initiative, called the Spirit Fund. He is expected to make a promising recovery.
Click for more
trending news