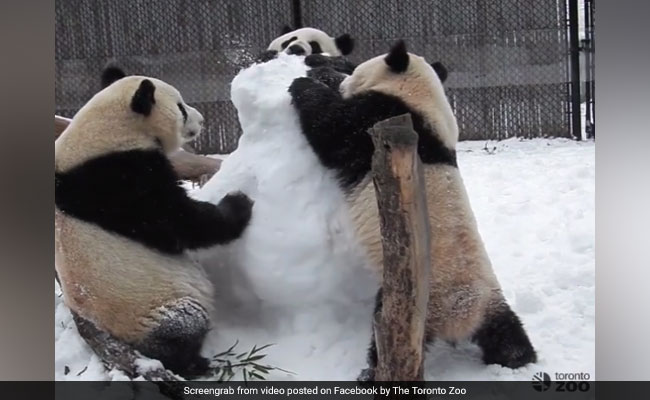 Need to instantly uplift your mood? What can be better than watching these giant pandas that will get the job done within seconds. A video of not one, not two but three giant pandas taking on a snowman is all you need to see to brighten up your day.
The Toronto Zoo
has shared the adorable video on Facebook. It shows pandas Er Shun, Jia Panpan and Jia Yueyue fighting and playing with the snowman the zoo keepers built for them.
The video shows one panda battling it out with the snowman. It is eventually joined by two more pandas in the fight against the snowman. There's a point when all three forget about the snowman and start fighting with each other. In the end, it's just one of the pandas left to battle it out against the snowman.
The video makes for the most adorable watch. Take a look.
Since being posted some 17 hours before writing this, the video has collected over 2100 reactions and more than 700 shares.
"The Panda bears are so cute playing with the snowman. I think they love the snow," says one Facebook user. "They are so comical and playful," says another.Click for more
trending news