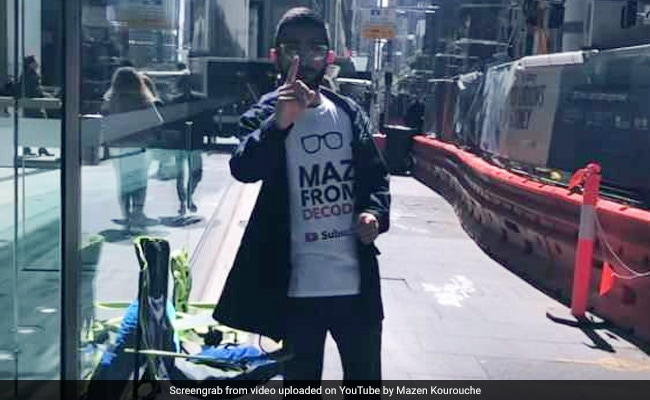 Days before any new Apple product is launched, excitement runs high among the fans. With hope of getting their hands on the new iPhone, thousands line up outside Apple stores for hours (and some times days). One such fan was Mazen Kourouche who camped outside an Apple store in Sydney two days before the September 12 launch of the new iPhone 8, 8 Plus and X models. Except, the plan went 'down under' soon after the announcement of the new device.
The Sydney-based YouTuber wanted to be the first person in line to get the new iPhone X. Armed with a convertible chair and some food, the app developer reached the store 10 days before September 22, when the new phone was supposed to go on sale. But cut to announcement day and Apple revealed that the iPhone X would only be available from November 3.
A glimpse of his journey from his home to the Apple store was documented in a YouTube video.
Many on Twitter commended the YouTuber for his dedication to get the new phone.
Tjoo people are serious , 9 days before the release date someone is already in the queue.. someone gotta sponsor this guy https://t.co/Bwu7U4wuJj

— Gilbert (@Gilbertgobs) September 13, 2017
With 10 days to go until #iPhone8 release, @mazfromdecoda has set up outside @Apple George St to be customer #1: https://t.co/CJUN08HsJp

— Fone King (@TheFoneKing) September 12, 2017
ICONIC GOOD JOB BROTHA https://t.co/Q50tSPs477

— Amit Kalra (@AMITNKALRA) September 12, 2017
Maz, you're an icon. https://t.co/juAzwFbUS1

— amanda southworth (@amndasuthwrth) September 12, 2017
The YouTuber told NDTV he hasn't decided if he'll line up again for the iPhone X.
From its new headquarters in Silicon Valley, Apple
debuted
three new models on Tuesday - iPhone 8, 8 Plus and the 10-year anniversary version iPhone X.
The
iPhone X
has a 5.8-inch display with 2436x1125-pixel resolution Super Retina display, glass and stainless steel design, 12-megapixel dual cameras. The flagship phone also boasts of Face ID facial recognition technology.
Click for more
trending news