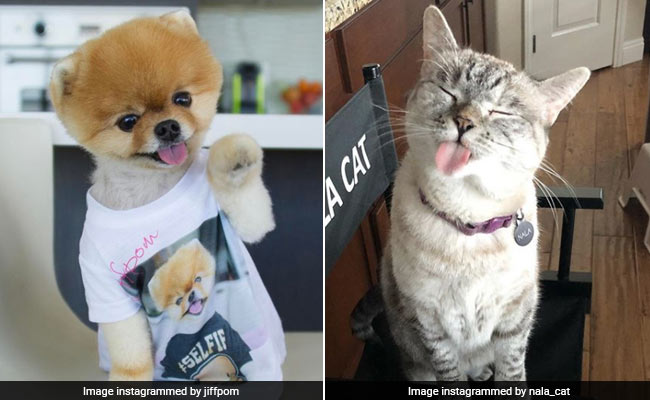 2017 is almost over and the good folks over at
Instagram
are already looking back at the year gone by. They've compiled a list of the top 10 most followed pets on Instagram and it's one list that'll instantly brighten your day. The best part? It's not just dogs and cats that make the list... there's even a fox! From the most Insta-famous Pomeranian to the sweetest rescue cat, here's the list of insanely cute four-legged furballs that Instagram users can't get enough of.
Here are the top 10 most followed pets on Instagram in 2017:
1. Jiff Pom is a Pomeranian dog who has well over seven million followers on Instagram. What a cutie!
2. Nala the cat is the most famous feline on Instagram with over 3.5 million followers. The seven-year-old Siamese and Tabby mix is a rescue cat.
3. Doug the Pug is the self-proclaimed "King of Pop Culture." With over three million followers on Instagram, Doug is busy living the "pug life."
4. Maru Taro is a Shiba-Inu who lives in Japan and has a cool 2.6 million followers on Instagram. See how happy he is to be Insta-famous.
5. The "World's Grumpiest Cat" has 2.4 million followers on Instagram. Tardar Sauce's permanently "grumpy " facial appearance is caused by an underbite and feline dwarfism. But that hasn't stopped her from turning frowns upside down on social media.
6. Marnie the dog is a 16-year-old Shih Tzu who was adopted from a shelter. With 2.1 million followers, she's an Instagram sensation. Just look at that sweet face.
7. Tuna is a Chihuahua and Dachshund mix dog. He was abandoned by his original owner and later adopted. Despite an exaggerated overbite, recessed jawline and shrivelneck, Tuna is loved dearly by his 1.9 million Instagram followers.
8. Juniper the fox is a domesticated North American Red Fox who has over 1.9 million followers on Instagram. The "Happiest Fox" was adopted when she was only five-weeks-old. She's also the only animal who isn't a dog or a cat on this illustrious list.
9. Lil Bub is quite the accomplished feline. She's a published author, a talk show host and the star of an award-winning documentary. No wonder her 1.7 million Instagram followers love her so.
10. Loki is part husky, malamute and arctic wolf. With 1.6 million Instagram followers, the outdoor adventure enthusiast loves inspiring other humans to get outside with their pups.
Who's your favourite Insta-famous pet? Let us know in the comments section below!
Can't get enough of Instagram's year in review? Here's a list of the
top 10 most liked posts of 2017
.Click for more
trending news