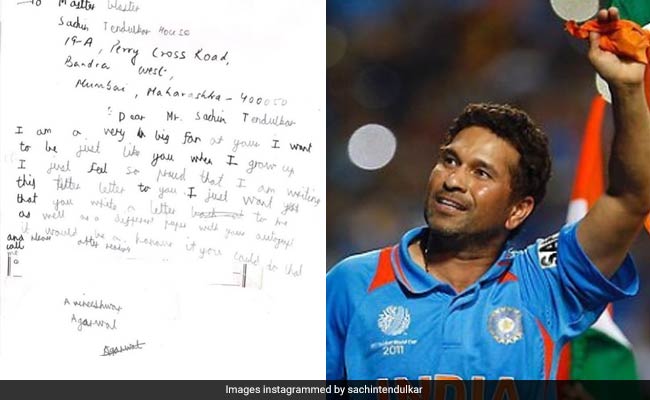 New Delhi:
Imagine if you woke up one day only to find that your fan-mail was actually answered. For Avineeshwar Agarwal, that's exactly what happened when the God of Indian cricket Sachin Tendulkar himself replied to his handwritten letter. About four hours before writing this, Sachin posted a picture of an endearing letter written to him by Avineeshwar on Instagram. The snapshot of the letter was accompanied with an encouraging caption and has since gone viral with almost 90,000 'likes' on the photo sharing app.
In his letter, Avineeshwar writes that he wants to be 'just like' Sachin when he grows up. "I am a very big fan at you and I want to be just like you when I grow up," reads his adorable letter. He ends his letter by requesting an autograph from Sachin.
The master blaster, in turn, writes that the letter brought a smile to his face. "This really brought a smile on my face. My best wishes to you. Keep working hard!!"
While 'sweet' and 'cute' seem to be the most commented words on the photo, many have come forward to praise the cricketer for taking the time out to reply to a fan.
"No matter how big you are, one must never forget humanity. You are a perfect example of that," writes an Instagram user. "Nice letter and nicer reply!" says another.
"Thank you for inspiring us every single day Sachin Sir!" writes a third user, echoing the sentiments of Avineeshwar.
What do you think of Sachin's response? Let us know using the comments section below.Click for more
trending news