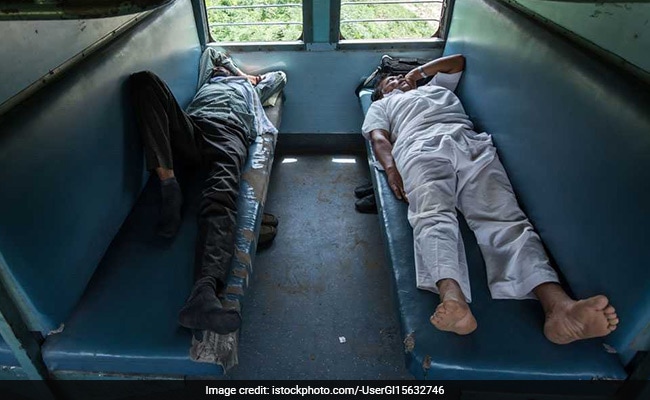 Mumbai:
Long haul train journeys can be quite tedious. And among the things that make an overnight journey worse is finding yourself seated next to a crying baby or passengers who have little control over their bodily sounds. How many times have you wondered what you could do to make a passenger stop snoring so you could get a few moments of shut eye? Well, next time you're in such a situation, do what these passengers in a 3rd AC coach of LTT-Darbhanga Pawan Express did. Commuters punished their fellow passenger for snoring too loudly and disturbing their sleep - by not letting him sleep for a few hours so that they could.
Identified as Ramchandra, the offending passenger, was asked to stay awake for at least five to six hours. Passengers also had a heated argument over the issue.
The incident was confirmed by Ganesh S Virha, Chief Ticket Inspector of the Jabalpur division of the West Central Railway. He further confirmed that Mr Ramchandra wasn't offended by the 'punishment' and even refused to file any complaint with the Government Railway Police (GRP).
"I got to know about the commotion when I took charge of the coach at Jabalpur at around 5 am (on Thursday last)," Mr Virha told PTI. "The train was a bit late and when I entered the coach, passengers briefed me about the heated argument that took place during the night journey. Ramchandra said he was persuaded by fellow passengers not to sleep for some time."
While he resisted the idea initially, he eventually agreed.
"I sought to know whether the passenger (Mr Ramchandra) wanted to lodge a complaint with the GRP if he felt victimised or offended, but he replied in the negative," Mr Virha said, adding that the matter had been resolved amicably.
"When I revisited the coach later I found all passengers (involved in the matter) had become friends," Mr Virha said.
A senior Central Railway official told PTI that snoring in trains is a common problem and passengers complaint about the issue regularly.
(With Inputs from PTI)
Click for more
trending news