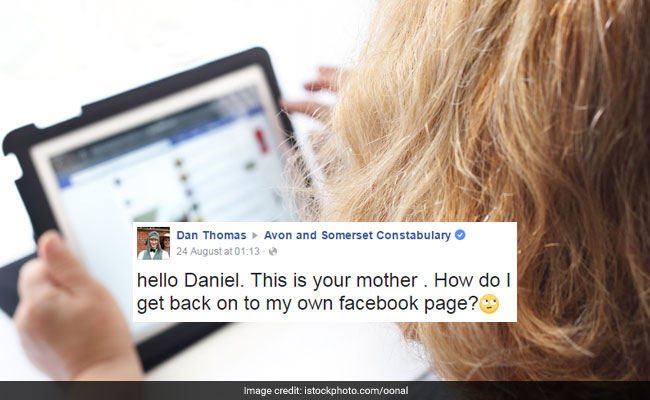 This could easily be the most mom thing ever. A woman's post, asking her son to help her log out of Facebook, is making many on the social networking site laugh out loud. The reason? She somehow managed to ask the police about her little query. What's more, she got a detailed Facebook 101 lesson as a reply.
Lorna Thomas, a resident of Somerset, England, wanted to check Facebook when she realised her son was logged in. Unable to log out of his account, the woman posted a message for her son asking him how she could log on to the website.
"Hello Daniel. This is your mother. How do I get back on to my own Facebook page?" she texted her son, Dan Thomas. However, what she had actually done was to post the message on the 'Avon and Somerset Constabulary' Facebook page.
The very public post got a lot of reactions, especially this one from the police department.
It seems the how-to lesson worked because eventually Ms Thomas replied to the comment from her own account.
Even her son, Dan, thanked the police department for helping his mother out.
Meanwhile, the adorable post has collected almost 3,000 reactions and over 275 shares. Several people love the exchange.
"Flipping hilarious. Thank you Daniel's mum, you've made a lot of people chuckle," says one Facebook user on the thread. "This is something mum would do," says another.Click for more
trending news