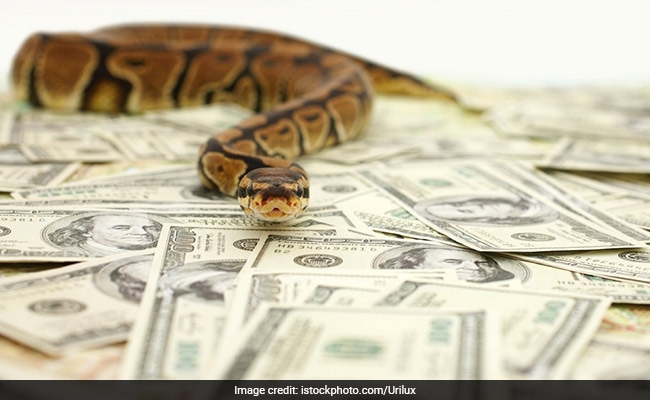 Two recent instances of animals being made scapegoats in an attempt to cover up alleged corruption in Nigeria have left social media highly amused. A sales clerk was suspended from her job in February after she claimed that a snake had swallowed 36 million naira, or approximately $100,000. Just weeks later, a senator was ridiculed for suggesting monkeys stole 70 million naira, or about $194,600, from a farmhouse.
In the first instance, a clerk in the office of the Nigerian examination board which collects exam fees
blamed a snake for swallowing $100,000
. Quite a mouthful for a snake, isn't it? According to the
BBC
, the exam board, known as the Joint Admissions and Matriculations Board, dismissed the woman's claim and suspended her after a disciplinary hearing.
In the second instance, a senator defending a colleague accused of misappropriating funds suggested monkeys "
carted away
" $194,600, from a farmhouse. He didn't specify what the gang did with all that cash.
Parody profiles for both the snake and monkey soon popped up on Twitter.
I am the snake that ate the money from Jamb office

— The Nigerian Snake (@NigeriaSnake) February 10, 2018
I am the monkey that swallowed 70 million naira and i wont return it to the farm

— Nigerian Monkey (@70MillionMonkey) February 21, 2018
Thanks @Forbes for the honour. But next time let me stand in front of the monkey for the photo shoot.

Cheers.

Hissssssssssss pic.twitter.com/cA5KcBJdvs

— The Nigerian Snake (@NigeriaSnake) February 23, 2018
And netizens couldn't help but laugh at the "monkey business."
Most Influential person in our "Animal Kingdom" rn?

RT for Senate Monkey
FAV for JAMB Snake pic.twitter.com/3dlaV6usWu

— Omoniyi Israel (@omoissy) February 21, 2018
First snake swallowed 36million naira.
Now a monkey swallowed 70 million naira.
I'm going to take zoo form, I want to be a Dragon so I can swallow 1 billion naira..
Since animals are now making it more than humans in this country pic.twitter.com/5cHWym2cdb

— (@t_riumphant) February 21, 2018
The Nigerian Monkey that stole N70m spotted on vacation living life to the fullest.... pic.twitter.com/r61meuTNU8

— DaddyMo (@officialdaddymo) February 21, 2018
Oh, I love this country, someday our kids will wake up to news headlines like this;



BREAKING NEWS; "EFCC uncovers 30bn in an apartment in Ogba Zoo, Monkey claims money belongs to Snake. Efforts to reach snake have been abortive as Rodents chase Search party out of zoo." — D'Bachelor (@Its_dandiko) February 21, 2018
These few years have seen animals become part of Nigeria. Today it's Monkey. I am so sure that during the elections next year we will hear that elephants took away the ballot boxes.

— Numero Uno (@adebayo_bj) February 21, 2018
Nigeria's anti-corruption agency, the Economic and Financial Crimes Commission, tweeted that the eagle - the country's national symbol - "shows no mercy for money-swallowing snakes".
#TheEagle shows no mercy for money-swallowing snake(s). pic.twitter.com/ljBJrHrZTp

— EFCC Nigeria (@officialEFCC) February 11, 2018
This isn't the first time animals have stolen the spotlight in Nigeria. Last year, Nigeria's President Muhammadu Buhari spent three months working from home after his office was damaged by rats.Click for more
trending news