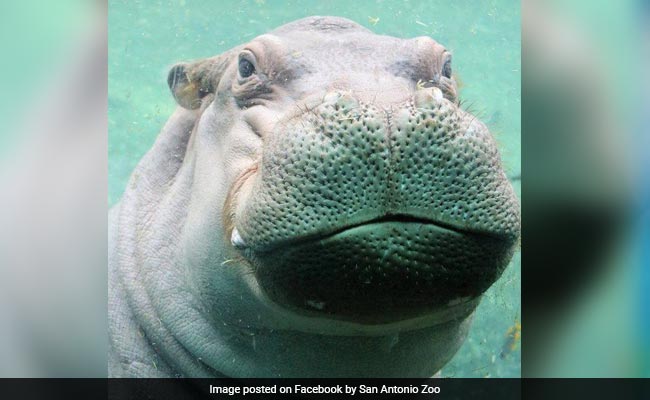 A heartwarming love story is brewing on the Internet and it is safe to say that everyone's hooked. Timothy, a hungry-for-love hippopotamus is trying his best to woo Fiona, another hippo at the Cincinnati Zoo & Botanical Garden in Ohio. The San Antonio Zoo in Texas shared an adorable letter from the hippo's side, asking if Fiona would like to meet Timothy and may be even become boyfriend and girlfriend. Fiona's replied and while her answer isn't a total yes, it's not a no either. The little almost love story is so sweet, Internet can't help but take notice.
It all started on March 9, when Timothy addressed Fiona in a mushy love letter, including a nice picture of his handsome face as well.
And with a letter like that, we can't help but agree that "hippos rule and elephants drool!"
Turns out Fiona is ready to #HippoSwipeRight if Timothy can comply to some of her requests.
Fiona thinks you're cute too, but it's what's on the inside that counts! Your DNA will decide if you're the one for our little diva. Any potential mate would have to be ok w/ taking a back seat. Are you ok w/paparazzi? Most importantly, are you willing to relocate to Cincinnati? https://t.co/7XFCiYnyz7

- Cincinnati Zoo (@CincinnatiZoo) March 9, 2018
Oh, we can't help but quote
Casablanca
here - "I think this is the beginning of a beautiful friendship."
Meanwhile, people on social media are completely invested in what may be a beautiful love story for the digital age.
@NelleCreations the hippo love story you need. pic.twitter.com/4KmfmnT2mz

- Dee Thomson (@linerglttrgloss) March 14, 2018
March 10, 2018
Others have some apprehensions.
*Continues watching while eating popcorn*Click for more
trending news