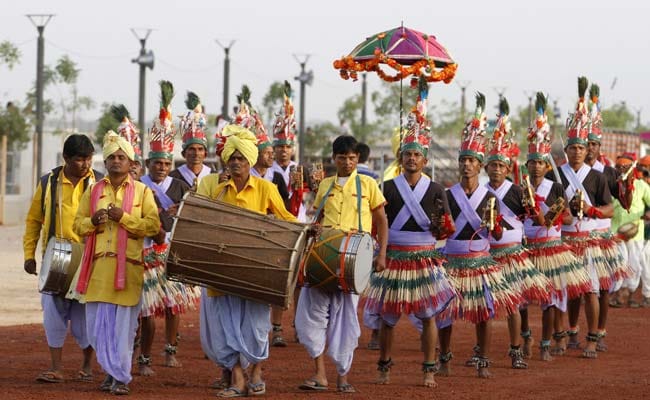 New Delhi:
Gujarat also referred as the 'Jewel of Western India' was known to the ancient Greeks. It was one of the main centres of the Indus Valley Civilization. This year on May 1st Gujarat completes 50 years. Gujarati is the state language. It is an Indo-Aryan language evolved from Sanskrit and local Prakrits. About 59 million people speak Gujarati, making it the 26th most-spoken native language in the world. During the British Raj, Gujarati businesses had served to play a major role to enrich the economy of Karachi and Mumbai. Major agricultural produce of the state includes cotton, groundnuts (peanuts), dates, sugar cane, milk and milk products. Industrial products include cement and petrol.
Gujrat has 85% village connectivity with all-weather roads. Nearly 100% of Gujarat's 18,000 villages have been connected to the electrical grid for 24-hour power to households and eight hours of power to farms, through the Jyotigram Yojana.
More than 900,000 internet users and all villages are connected with broadband internet. The state registered 12.8% agricultural growth in the last five years against the national average of 2%.
Gujarat records highest decadal agricultural growth rate of 10.97%.
Gujarat's major cities include Ahmedabad, Surat, Vadodara, Rajkot, Jamnagar and Bhavnagar. In 2010, Forbes list of the world's fastest growing cities included Ahmedabad at number 3 after Chengdu and Chongqing from China. The state is rich in calcite, gypsum, manganese, lignite, bauxite, limestone, agate, feldspar, and quartz sand, and successful mining of these minerals is done in their specified areas. Jamnagar is the hub for manufacturing brass parts.
Gujarat is home to the Gujarati people. It was also the home of Mahatma Gandhi and Vallabhbhai Patel, who preached unity between all religions and became a worldwide figure for peace.