A sinkhole believed to be the length of two football fields and as deep as four double-decker buses appeared on a farm near Rotorua on New Zealand's North Island. Pictures of the sinkhole, which appeared on May 1, were released to news agency AFP on May 7 and show just how enormous it is.
According to
Newshub
, the massive sinkhole opened up on a dairy farm following heavy rains. It is estimated to be about 200 metres long, 20 metres deep and 20-30 metres wide.
A New Zealand volcanologist who visited the giant sinkhole told
Newshub
it was the biggest he's ever seen. Volcano Information Specialist Bradley Scott told
1 NEWS
that a drone sent into the newly-formed canyon showed rock deposits from 60,000 years ago, suggesting the farm lay on the crater of a long-dormant volcano.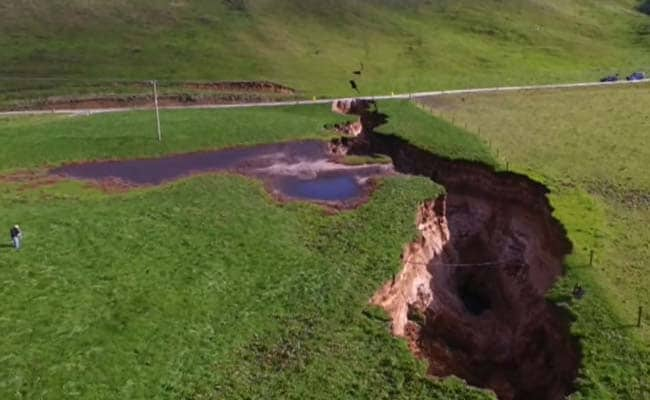 "What I see in the bottom of this hole is the original 60,000-year-old volcanic deposit that came out of this crater," Mr Scott told 1 NEWS. "Then there's a stack of about 10 to 12 metres of sediment sitting on top of it from lakes that have formed in this crater the top three metres is volcanic ash."
Sinkholes are reported to be fairly common in this part of New Zealand due to its volcanic history. Sinkholes are caused by water dissolving limestone or other material below the surface of the earth, reports Newshub.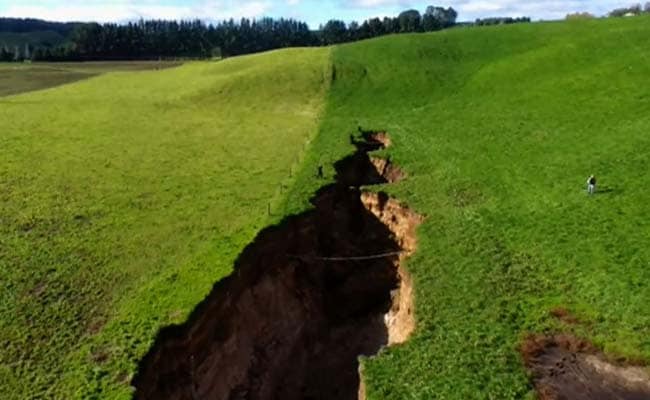 Last year,
a sinkhole opened up less than a kilometre away from Australian Prime Minister Malcolm Turnbull's home
in Sydney.
Fortunately, there were no reports of injuries or damage to private property from the sinkhole that opened up on a sidewalk after a night of heavy rain and flash flooding.Click for more
trending news