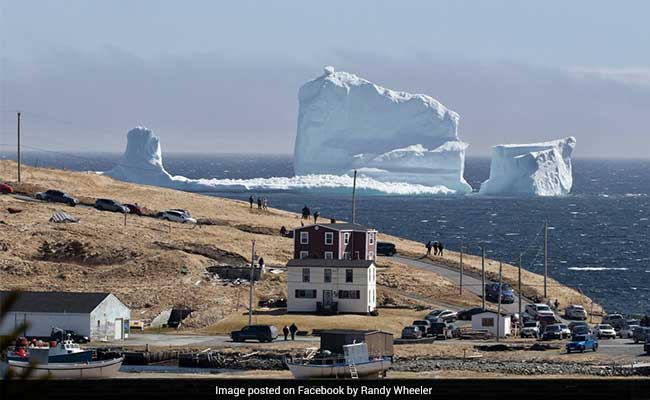 Highlights
Massive iceberg spotted near the coast in Ferryland town in Newfoundland
Movement of icebergs because of uncommonly strong counterclockwise winds
616 icebergs spotted in the area, much higher than last year: reports
New Delhi:
On most days, Ferryland isn't really on tourists' must-visit list in Canada. But due to an unusual sighting, the small coastal town of population barely 500 is seeing a sudden flurry of tourists. A giant iceberg has parked itself off the coast of the fishing town in Newfoundland and Labrador and it is a sight to behold.
The area off the coast of Newfoundland and Labrador is known as "iceberg alley" because of the large number of Arctic icebergs that make their way to the shore in spring. But the mayor of Ferryland Adrian Kavanagh told
CTV News
that "it's the biggest one" he has seen around the town. According to
CNN
, the iceberg has been classified as 'large' which means a height between 151-200 feet.
Locals and tourists have been sharing the photos of the breathtaking sight on social media
The Ferryland iceberg on a foggy day. Beautiful up close and in person! #ferryland#iceberg#newfoundland#landscapepic.twitter.com/bDBksaOlh0

— kathryn (@katie110977curn) April 19, 2017
According to
CBC News
, the town is seeing bumper to bumper traffic as people are heading to the town to have a closer look at the colossal iceberg that is photobombing the town. Here is a video to give you an idea of the people lining up to see the iceberg.
According to
CTV News
, 616 icebergs have been spotted in the North Atlantic shipping lanes this year which is unusually higher than last year. Experts say the reason for the unusual movement could be because of an uncommon strong counter-clockwise winds.
Click for
more trending stories