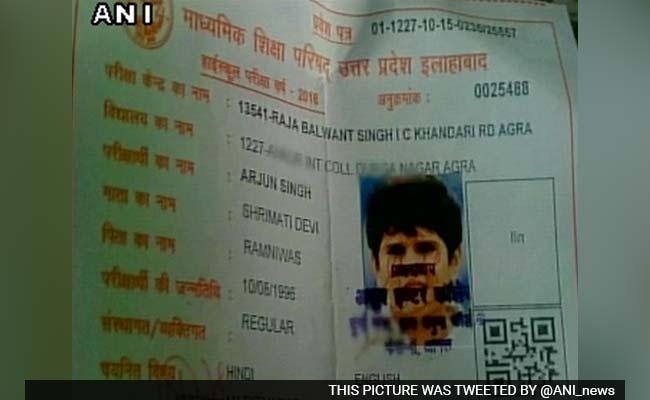 It's hard to believe this happened but it did - there's photographic proof.
A class 10 student in Agra was issued an admit card for his examinations by the Uttar Pradesh Board of High School and Intermediate Education. Just one problem - the picture on it was not of himself but, inexplicably, of cricketer Sachin Tendulkar's 16-year-old son, Arjun.
(17/2/16)UP Board issued admit card with Sachin Tendulkar's son Arjun's pic to a student of an inter college in Agra pic.twitter.com/SSyYAMsIPi

— ANI (@ANI_news) February 18, 2016
The student's name appears to be Arjun Singh and his parents are Ramniwas and Shrimati Devi. All correct and even attested by the teen's school - Ankur Inter College, Durga Nagar - which apparently failed to notice that the photo was not of their student.
According to reports, this admit card goof-up brings to light incidents of cheating and corruption that already plague state board examinations. Reports also suggest that a committee, set up by the district inspector of schools, will look into the matter further. The state's high school board examinations will, in the meantime, begin today.
This isn't the first time a story like this has made headlines. Last May, a
cow was issued an admit card
for a professional entrance exam in Jammu and Kashmir. Another photograph error happened in West Bengal last June when a
student was interrogated over a picture of his dog on his admit card
.
Wonder what the Tendulkars have to say about this huge gaffe.