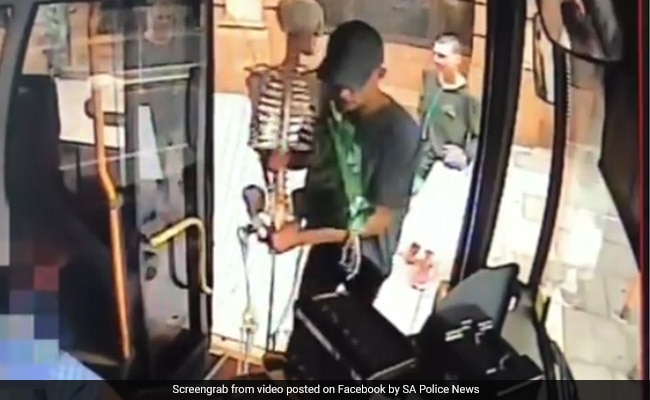 Police in Australia have released surveillance footage of three men who stole a skeleton from a mall display last year. The men stole the fibreglass skeleton from Adelaide's Rundle Mall in November but police only released the CCTV video now.
Footage shows the three suspects casually exiting an elevator and leaving the building with no apparent sense of urgency. One of the men is seen walking out with the skeleton while twiddling on his phone. The latter part of the video shows the men boarding a bus. The man with the skeleton in one hand is seen chatting up with the driver. In a funny sight, the skeleton appears to be holding a shopping bag in one hand.
Police shared the CCTV footage on their Facebook page to seek social media's help to identify the culprits but the post ended up being bombarded with puns after puns on the 'humerus' robbery.
"Wonder if he paid for the skeleton for the bus ride," wondered one person.
Another wrote, "3 suspects, 1 skeleton, all of them completely gutless".
"A case for Sherlock Bones to solve I think," joked a third.
Watch the footage here:
The skeleton was stolen from an exhibit of the Australian Orthopaedic Association back in November after the burglars posed as council workers, reported
Adelaide Now
. The skeleton reportedly costs $200-$500 to replace.Click for more
trending news