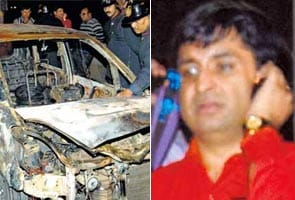 Mumbai:
The presence of mind and a keen sense of smell saved Dilip Wadhwa from a fiery demise. The IT engineer working with Wipro at Powai, was driving home to Kalyan in his Ceilo at around 11.30 pm on Wednesday night.
On the flyover near Cadbury, he heard a crackling sound and the interior of the car began to fill up with smoke.
He had just enough time to slow down and make it to the side lane on the flyover and get out, before the car burst into flames.
The entire car was engulfed in a matter of minutes, and by the time the fire brigade turned up, the fire had burnt itself out leaving behind a heap of smoldering metal.
Wadhwa said, "I had bought this car in 2008 and for most of the time after that, I was in the US.
After returning I have been working with Wipro and drive regularly from Kalyan to Powai. The car was perfectly fine and I have not given it anywhere for repairs recently.
When I was on Thane bridge, the smell of burning insulation began to bother me, but I did not realise that it would lead to a fire.
I had just got out to check when the car caught fire and burned down before my eyes, all in a matter of minutes."
Wadhwa added that the fire brigade arrived and sprayed water on the car, but by that time it had already been totally damaged.
A fire brigade official said, "Running car fires are common and we have seen this happen many times."