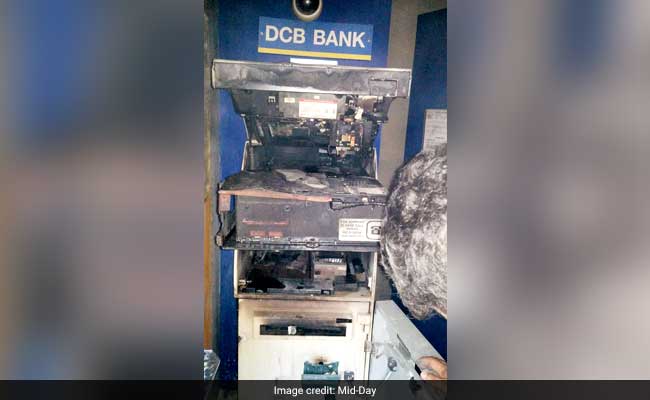 Mumbai:
Weeks after they tried to cut into an ATM machine to loot cash and ended up burning it and a lot of money, a group of miscreants is still on the run.
The targeted ATM belongs to the DCB Bank and is located in Triveni Nagar in Malad East. The miscreants struck it in the wee hours of January 11. They were trying to rob the ATM by hacking into the machine with a gas cutter.
The accused had cut a part of the plate on one side of the machine and the fire broke out while they were cutting another one, said a police official from Kurar police station. Around Rs 6.5 lakh in cash was reduced to ashes, along with most of the machine.
The ATM is situated in a ground-plus-one shop. A first floor resident got to know about the blaze when the smoke reached his house. He then called cops and the fire brigade team.
The fire also destroyed the CCTV and DVR machine in the ATM, due to which it has become difficult to identify the accused. The official said they have looked at footage from other CCTVs in the vicinity.
Some suspects were seen and a vehicle was also spotted near the ATM centre. But the number plate of the vehicle was not clearly seen. A case has been registered under sections 380, 511, 436 and 34 of the IPC at Kurar police station.
(Except for the headline, this story has not been edited by NDTV staff and is published from a syndicated feed.)