Mumbai:
A physically challenged shopkeeper was attacked with a sword on Tuesday night for daring to raise his voice against a group of druggies who used to extort money from nearly 200 shopkeepers on the threat of violence and arson.
Chilling CCTV footage of the incident shows one of the goons storming into the showroom and slashing Rajnish Singh Thakur (36) alias Bablu twice before a brave customer manages to overpower him.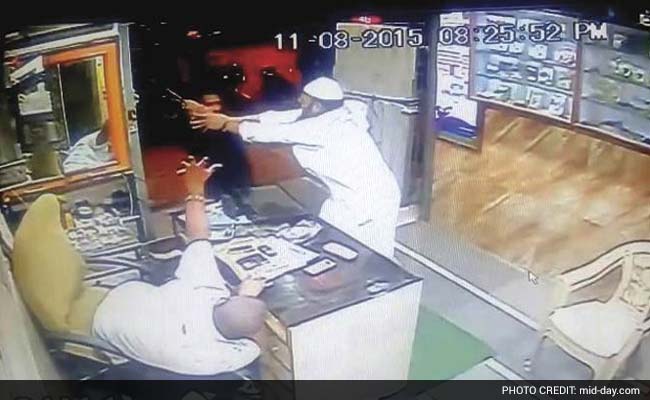 Rajnish, who suffered injuries to the neck, left hand and waist, is in the ICU of a local hospital, and his brother, Manish aka Pappu, said he would have been killed had the customer, who had come to make a payment, not come to his aid.
He also said that far from being cowed down by the incident, the shopkeepers will raise their voices louder and ensure that the druggies are brought to book. The Tilak Nagar police have arrested four of the six druggies who had come to assault Rajnish while the others are absconding.
According to police officials, for the past several months, a big gang of druggies used to go to nearly 200 shops along the P L Lokhande Marg in Chembur and threaten to attack them, break the glass of the shops and burn them down if they did not fork out money. The scared shop owners used to give them Rs 1,000 to Rs 1,500 each time.
Every success emboldened the druggies, who began to see this as a source of easy money and started doing it more often. "These druggies are the gundas of the area. They have a big gang, threaten everyone and demand money. They asked for hafta to keep us and our shops safe," said Manish Singh Thakur.
Fed up with the druggies' activities, Rajnish, whose showroom is also located on the same road, formed a group of shopkeepers, printed awareness messages with his and his brother's names and contact numbers and asked people to report the instances to them.
Posters were put up and flyers handed out to every shopkeeper.
After they had collected enough evidence, Rajnish led a delegation to the Zonal DCP and informed him about the extortion. "The police took action, picked up the druggies and charged them, but their gang was too big," said Manish. Police officials admitted that they had to let the druggies go after they paid a fine.
Baying for blood
Since Rajnish's name figured on all the posters, the druggies decided to target him to take revenge. Manish said several attempts were made to assault Rajnish, but none had succeeded until Tuesday night.
On the fateful night, Rajnish was sitting on a chair on the counter, talking to a customer who had come to pay him money, when Akram Shaikh (28), one of the druggies, stormed in with the sword hidden behind his back. Shaikh was accompanied by five others, who were waiting for him in a car outside.
Braveheart
Shaikh attacked Rajnish twice, before the brave customer overpowered him. "Had it not been for the customer, my brother would not be alive today," said Manish. With the help of some other shopkeepers, the customer kept Shaikh in the showroom until the police showed up and arrested him. While Rajnish was rushed to the Kailash Jeevan Hospital in Govandi, Shaikh's other five accomplices made a run for it.
Nabbed
After arresting Shaikh, the Tilak Nagar police managed to track down and arrest three of his accomplices, while the other two are absconding. "The main accused, Shaikh, informed us that they had decided to take revenge by attacking the victim because he had formed an association and had united the shopkeepers.
We arrested Shaikh based on the CCTV footage and picked up three of his accomplices later. Two are still absconding," said senior police inspector Bhagwat Sonawane of Tilak Nagar police station.
The accused have been booked under Sections 307 (Attempt to murder), 148 (rioting, armed with deadly weapon) and other relevant section of the IPC. The four arrested accused were presented in court yesterday and remanded in police custody till August 14.
Will keep at it
Manish said that he and the shopkeepers will not be cowed down. "This needs to be stopped, we should raise our voice against them, or else they will attack more people," he added.