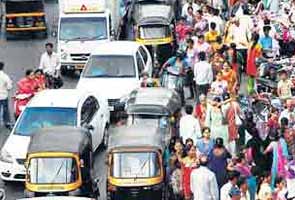 Mumbai:
Having been called the rudest, one of the most unliveable, and recently, the most packed city in the country, Mumbai now also has attained the label of the city with the least open space left for its residents. A report released by global real estate consultancy firm Jones Lang LaSalle Intelligence Services says that Mumbai has just 1.95 sq m open space per capita, which is way worse than Delhi, with 15 sq m per person, and Bangalore with 6.4 sq m per capita.
Globally, this is worse even than the world's most populous metropolis Tokyo, as well as New York, and is dismally below the United Nations Food and Agriculture standard of 9 sq m per capita or per person.
Currently, claims the study, there are 14 million Mumbaikars on the entire 480 sq km of the city, and they collectively have only 14 sq km - or 2.5 per cent - of public open space with them, which include parks, playing fields and recreation grounds.
Incidentally, Chandigarh offers 35 per cent of its city area for open spaces, and Delhi has 20 per cent for gardens and parks.
Ashutosh Limaye, head, Research and Real Estate Intelligence Service, Jones Lang LaSalle India, has said in his report, "What I found more disturbing was the non-utilisation of Mumbai's natural gifts. An open western coastline of 35 km and a natural harbour on its eastern coast is kept away from people, with less than 10 organised access areas to the sea. With hardly any water sports and occasional water front parks, the Arabian Sea is reduced to a mute spectator for Mumbaikars."
The report also talks about how Mumbai has a 50 sq km vast national park, which is, sadly, underutilised. It has areas covered by mangroves and wetlands that are meant to be a protected zone without public access, but that are fast being encroached by squatters.
Jeetendra Gupta, Mumbai Intellectuals Voices, a group that raises social issues within the city, claims that this is a matter of immediate concern and the government should take steps to protect open spaces. "For a common man, it is difficult to understand what a reserved open place is. If the authorities put a board defining open space, it would be a bit difficult for people to encroach upon it. However, that's not happening and hence, we see most of the open spaces being encroached and turned into a concrete jungle."
The larger picture
Limaye explained how the crunch is forcing citizens to pay for open spaces -- in the form of gardens and pools in a residential complex.
"Mumbai's real estate is creating its own family level open spaces in its residential projects. It is clear that only the cr me de la cr me can afford this. But the aspiration fast trickles down from luxury to high-end and then to mid-end residences where one pays almost twice the money for 'non-residential space' while buying a house.
"Creating such spaces artificially on a concrete base means a heavy carbon footprint, higher energy consumption, depriving air space for additional residences that the city requires so badly, and above all taking the property price beyond the sustainable limit for the majority of citizens," Limaye said.