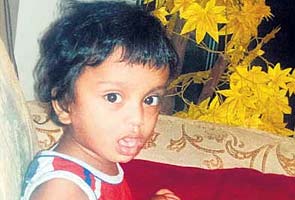 Mumbai:
In an incident of disproportionate vengeance, the Nagpada police have arrested a 13-year-old domestic help after she admittedly threw her employers' one-and-a-half-year-old son from their fourth floor apartment in Byculla.
Miraculously, however, the injured child, Rehan, survived the hard fall without major external injuries.
He is currently recuperating in the neonatal intensive care unit of Prince Ali Khan Hospital in Byculla and is completely stable, doctors said.
The maid was hired last week by Aqeel Abdul Rehman Khakra (47), a builder who lives in Honda Mansion at Sir JJ Road in Byculla.
According to the Nagpada police, around 11.30 am last Saturday, the maid broke a glass plate, provoking an angry reaction from Khakra's wife.
Upset by the incident, and allegedly driven by a blind desire for revenge, the maid threw Rehan from the window of the apartment when there was no one in the house.
Some of the building's residents heard the wails of the boy and rushed out to find him lying on the ground. Rehan was taken to the hospital.
Initially, cops were confused about the incident.
They thought that Rehan had accidentally fallen out of the window. But after sustained questioning, the maid confessed to the crime, saying it was an act of vengeance incited by her employer's ire on Saturday morning.
Police arrested the maid on Sunday morning.
"We have arrested the maid and sent her to the children's remand home," said Sanjay Kadam, senior inspector, Nagpada police station.
The Khakra family had employed the maid last week. Reportedly, she comes from a poor family from Muzaffar Nagar district in Bihar.
Her previous employers in the same locality said that she is a short-tempered girl, and had left her family in Bihar out of anger.