New Delhi:
For the third time this monsoon, pounding rains paralaysed Mumbai on Wednesday with total disruption in road and rail traffic, though flights were not hit severely. Mumbai turned into an extension of the sea as unprecedented rains deluged the country's financial capital, delaying flights, jamming traffic, flooding homes and having rescue teams out on the roads since morning. In several places, the local trains grinded to a halt, and long distance trains were cancelled. In the evening office hours, the waterlogging pushed people to look for the nearest shelter, abandoning thoughts of reaching home. The met office declared a red alert for the next 24 hours, indicating that the situation might worsen. Schools and junior colleges in Mumbai, Thane and Kokan will remain shut on Thursday as a precautionary measure.
Here are the live updates of Mumbai rains:
Train services restart in Mumbai
A lull in the rains offered much-needed respite to Mumbai today with train and road traffic returning to normal.
Suburban trains came to a standstill and roads in low-lying areas were water-logged on Wednesday following a heavy downpour.
Services on the Central line restarted around 12.15 am between Kurla to Kalyan and around 12.35 am between Chhatrapati Shivaji Maharaj Terminus (CSMT) to Goregaon, officials said.
Special trains were run post-midnight to ferry the commuters who were stranded at various railway stations.
Railway Minister Piyush Goyal tweeted about restoration of services in the morning.
Western Railway services on the fast track between Churchgate and Vasai Road also resumed.
The torrential rain on Wednesday had led to flooding of tracks in low-lying areas such as Sion.
Commuters were stranded at railway stations. Some commuters had to get down between the stations, and walk on the tracks.
Schools and junior colleges in the city would remain closed on Thursday following a government directive.
30 flights cancelled at Mumbai airport, 118 delayed
Flight operations at Chhatrapati Shivaji Maharaj International Airport were affected for the second day with cancellation of 30 flights and another 118 getting delayed today.
As per a live flight-tracking website, 14 incoming and 16 outbound flights were cancelled.
In addition, 118 flights were delayed, including 86 departure.
In a brief statement, Mumbai International Airport Airport Ltd (MIAL) said that "operations are normal".
"IndiGo has reported cancellations. Please contact the airlines for further information," it added.
IndiGo suspended operations due to paucity of manpower on Wednesday night, a source said.
The airline said in a statement this morning that operations had resumed as per the schedule.
"There are few cancellations to stabilize the operations. Therefore, we request the passengers to check the status of their flight before proceeding for the airport. All affected passengers are being accommodated on alternate flights," it said.
The operations at the country's second busiest airport had witnessed heavy disruptions on Wednesday as rains crippled the city.
Around 20 flights, most of them of IndiGo, were cancelled on Wednesday and 455 flights were delayed due to the incessant rain.

Mumbai Rain: Schools, junior colleges shut for second day amid heavy rain alert
Schools and junior colleges in Mumbai and neighbouring areas will remain shut today after yesterday's unprecedented rain. Heavy rain crippled the country's financial capital yesterday, delaying flights, causing traffic jams and flooding homes. A red alert was declared on Wednesday, fearing more rain. The weather department has warned of more rain today as well. Three people died yesterday in rain-related incidents. The local trains, a lifeline for Mumbai's 20 million residents, are running as per schedule. Though there was no overnight rain, several long-distance trains have been cancelled this morning. Mumbai's streets regularly flood during the monsoon, which runs from June until September or October, and which provides India with most of its annual rainfall."
Suburban harbour line services restored in Mumbai
The suburban harbour line services have been restored in Mumbai, informed on Central Railway.
Train services were severely hit due to heavy rains in Mumbai and suburbs.
"Local train towards Andheri left Chhatrapati Shivaji Maharaj Terminus (CSMT) at 5:22 am and local train towards Panvel left CSMT at 6 am," read a press release by Public Relations Department, Central Railway, Chhatrapati Shivaji Maharaj Terminus Mumbai.
Train services resumed on Kurla to Kalyan route and Chhatrapati Shivaji Maharaj Terminus (CSMT) to Goregaon route after rains relented late on Wednesday evening.
Private bus services resume after water receded in Dadar, following heavy rainfall in Mumbai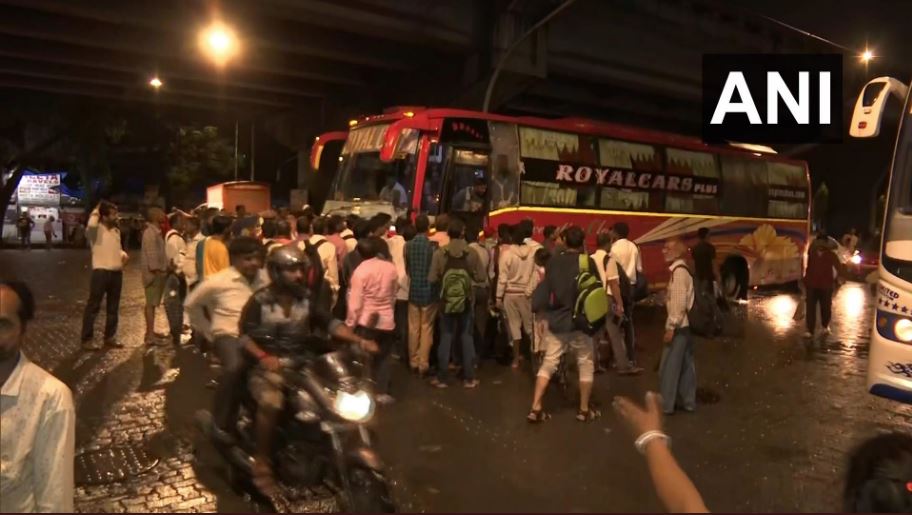 Three trains -- Surat-Mumbai Central, Mumbai Central-Surat and Bandra T -VAPI cancelled due to heavy rains and water-logging at Nallasopara: Western Railway, Chief Public Relations Officer.
Water level has receded in almost all parts of Mumbai.
NRDF teams are on alert and kept on stand by at Kurla, Parel and Andheri.
India Meteorological Department (IMD) forecast intermittent rain with the possibility of very heavy rain at isolated places in Mumbai and its suburbs.
Central Railway suburban harbour line services restored.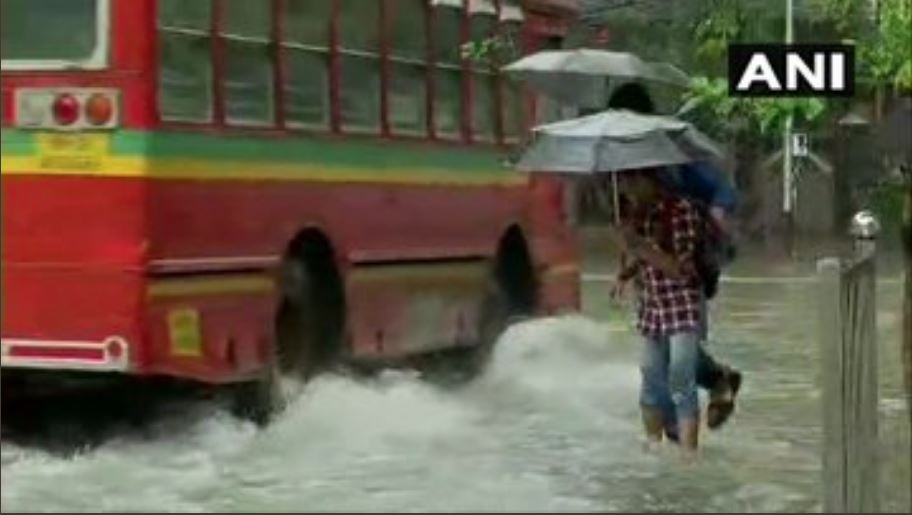 Weather department has issued a 'Red Alert' for Mumbai and surrounding districts which could be lashed by very heavy rains over the next two-three days.
For the third time this monsoon, pounding rains paralaysed Mumbai on Wednesday with total disruption in road and rail traffic, though flights were not hit severely.
Renewed bout of rains started lashing the Mumbai Metropolitan Region since Monday. The collapsed in the less than 18 hours of overnight rains since Tuesday evening.
In the past 36 hours, the India Meteorological Department said Mumbai, Thane, Palghar and Raigad districts averaged a whopping 25-30 cms rains, while Vasai-Virar belt in Palghar got a staggering 50 cms rains.
NDRF, Navy and Mumbai Police came to the rescue of around 1,500 people stranded in the flood waters of Mumbai's sole flowing freshwater body, the Mithi River.
It had which overflowed and entered their homes in Krantinagar area of Kurla.
City's lifelines - Western Railway and Central Railway - continued to function with hiccups
Many low-lying areas in the city including Sion, Wadala, Dadar, Parel, Kings Circle, Matunga, Chunabhatti and in suburbs Andheri, Jogeshwari, Santacruz, Malad, Borivali, Mulund, Bhandup, Kanjurmarg, Vikhroli, Kurla and surroundings were flooded with water entering people's homes on the ground floor.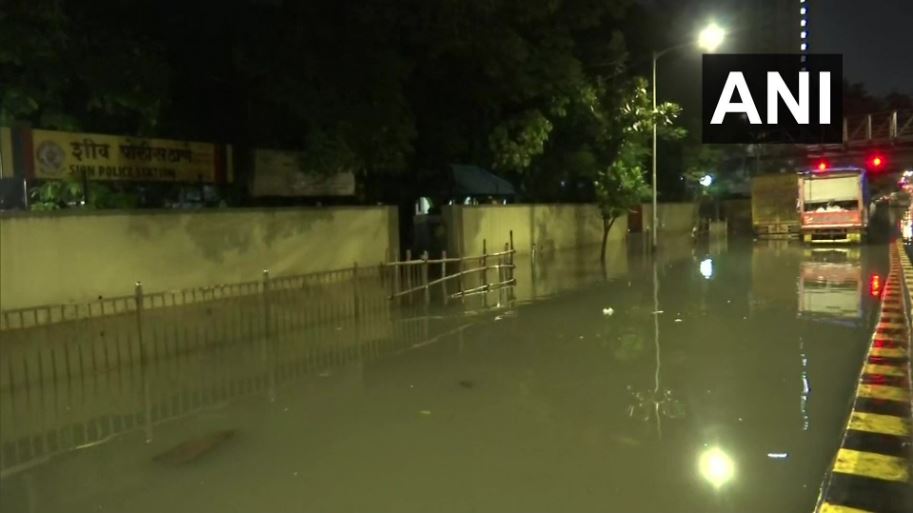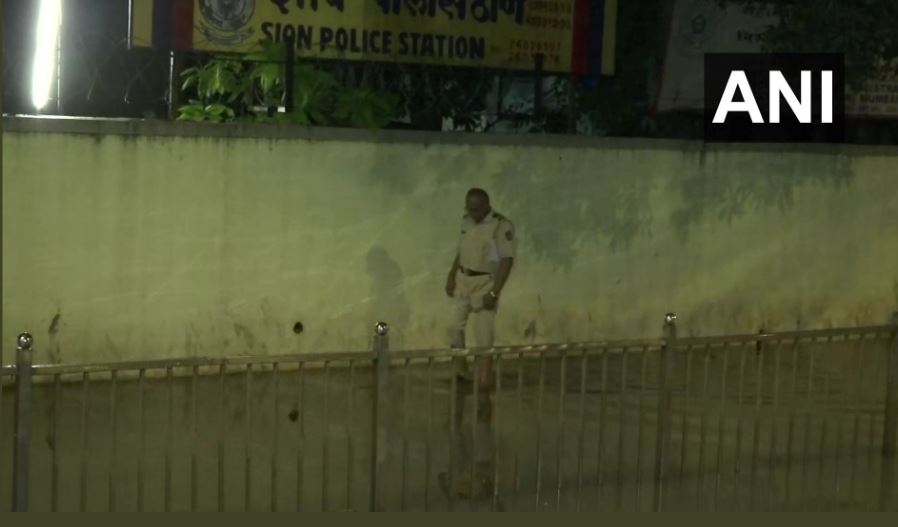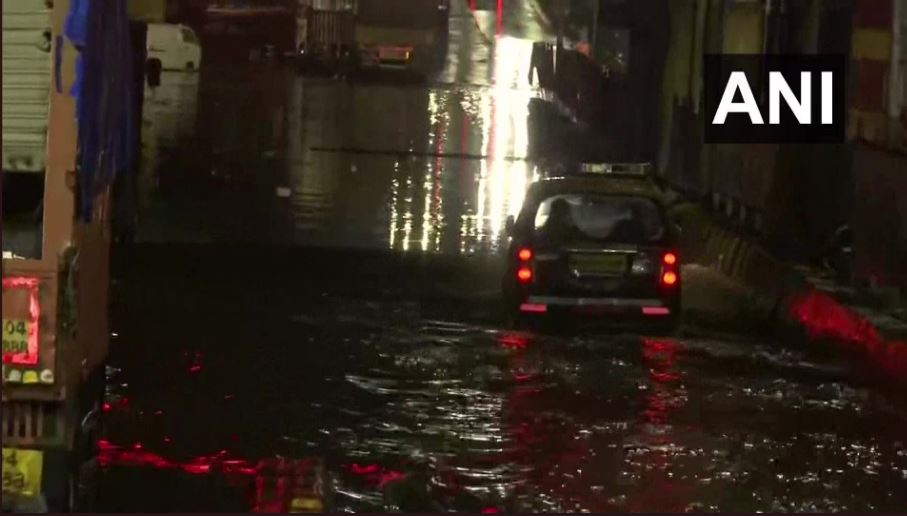 Roads on the exteriors like Mumbai-Goa Highway, Mumbai-Pune Expressway, Ghodbunder Road, Mumbai-Ahmedabad Highway, Mumbai-Navi Mumbai Road, and others also experienced huge traffic snarls as the snowballing effect of the conditions in Mumbai.
In several places, big and small vehicles were stranded in the flood waters forcing their occupants to abandon them, which added to the traffic jams.
Rains severely hit the ongoing Ganeshotsav festivities in the four districts - Mumbai, Thane, Palghar and Raigad.
Flood waters seeped inside the various marquees and pandals compelling the BrihanMumbai Sarvajanik Ganeshotsav Samanvay Samiti President Naresh Dahibavkar to issue a precautionary appeal.