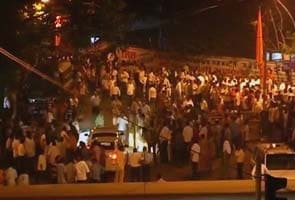 Mumbai:
Odomos and news. Two things that were competing with each other to be the most precious for news crews on vigil outside Matoshree, the home of the ailing Bal Thackeray, for the last couple of days and nights.
The mosquito repellent was relatively easy to come by - local shops had enough. But news of the Shiv Sena supremo's health wasn't that easy.
Despite that, or perhaps because of that, the crews, journalists and outside broadcast (OB) vans had to stay put, even after some of them were attacked on Wednesday night by the crowd of Sena supporters that had gathered there, growing restless as news of their leader's failing health trickled out. After several anxious hours, fearing more assaults, the media found safety in numbers as well as behind the hundreds of policemen put on alert around Matoshree.
Also to their rescue was Maharashtra Housing and Development Authority or MHADA, opening up its premises for the OB vans and a raised platform for camerapersons so that they could capture images of the celebrities and politicians visiting Matoshree.
On Thursday night, as journalists were preparing to settle down for what seemed to be yet another long night outside the Sena patriarch's home, news arrived that his son, Uddhav Thackeray, would come out to speak. As the latter walked towards the barricades put up by the police to control the surging crowds, excited Sena supporters started abusing reporters who were blocking their way. Mr Thackeray appealed for calm and told the media and Sena supporters, "Balasaheb is better than yesterday. We are followers of a fighter leader."
That immediately had two simultaneous effects. The Sainiks calmed down and began to disperse. For the media, on its third night of camping outside Matoshree, it meant less hectic hours ahead. But they also knew that it didn't mean they could go home yet. So the next best thing: they all started looking for the most comfortable place to get a quick snooze, for as long as the next piece of news trickled out. While most journalists used OB vans, for the camerapersons...well the MHADA's platform was turned into a makeshift bed with many of them dozing off next to their cameras. Till the next bit of news and the next morning.